Something creepy and kooky is coming to Doner Auditorium for its last ever musical.
 State University Theatre is putting on "The Addams Family" at 7:30 p.m. Oct. 3-6 and 2 p.m. Oct. 7 in Doner Auditorium.
 "The feel of the show fits Doner," said Jim Wood, the director.
Doner has been State Theatre's home for years and definitely "has its charm." 
 "They're weird, they're dark, but they're happy. It has this comforting feel to it, we thought it would do really well in Doner," he said.
 This musical is a new story for the familiar family. Wednesday Addams has grown up and fallen in love with a "normal" boy. The Addams have to cope with Wednesday's news and host a dinner for Wednesday's boyfriend and his parents.
 The 23-person cast and 10-person band has been working since Aug. 27 to put this musical together.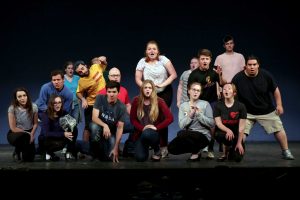 Stage manager Willow Cowherd said it's exciting to see the collaboration that takes place.
 Cowherd said her favorite part about the show is the cast. She "loves" working with them. 
Deborah Ingle plays Grandma and loves the show because she can be "out of control and no one can do anything about it."
 The audience should expect dad jokes, saucy humor and lots of dancing from the ensemble who are the dead ancestors of the Addams family.
 "Once a year they (the Addams) let them (the ancestors) out of the crypt to do a dance-thing," Cowherd said. "I love watching their characters develop and how enthusiastic they are."
 One challenge for this show has been bats. According to Wood, he decided to call off a rehearsal because "the bat would not leave us alone."
 Cowherd said there are two bats in Doner now. 
 "I think he's just really excited we're doing Addams Family," Wood said with a laugh.
 Wood hopes students especially come out to see the show.
 "I would hate for us to leave Doner with students that are here never having seen anything in it," he said.
 The show is free for SDSU students with their student ID. Adult tickets are $20, senior and military are $18, faculty and staff are $14, non-students are $13.