Stay alert, prepare for approaching South Dakota winter
Cold temperatures and harsh winds characterize South Dakota's winter climate. Wind chill and frigid temperatures put everyone at risk for accidents and injuries.
According to Bruce Millett, a South Dakota State geography professor, this year's winter will bring colder temperatures than usual through March, but about the same amount of snow as last year.
"We should expect the arctic air coming our way in January and February from Canada," Millett said. "The temperatures will average highs about twenties and lows of zero degrees Fahrenheit throughout the season."
Jayme Trygstad, emergency management specialist at SDSU, said with snow beginning to fall, it is important students and faculty are prepared for commuting to campus.
"Make sure that you're checking the weather prior to leaving your house as part of your travel plans, as some of the roads could be closed," Trygstad said. "It is also important to keep a safety kit in your car if you get stuck."
According to the South Dakota Safety Council, an emergency survival kit should consist of at least a flashlight, blanket, shovel, sand, candy bars, matches, brightly-colored cloth, jumper cables, long-burning candles and a cup.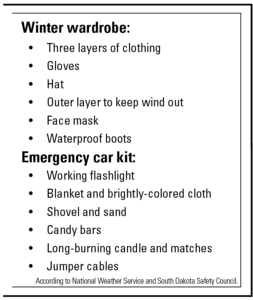 Besides keeping these necessities in your vehicle, it is also important to stay alert on the road. Lowell Haag, a staff member in Yeager Media Center, was in several winter accidents during his time as a college student and urged others to take extra precautions while driving.
"As you experience an accident, it is not a pleasant feeling and it is never fun," Haag said. "Don't rush. Drive slow. Take your time."
Safety rules also apply to pedestrians on campus. It is important to dress properly for cold temperatures. Trygstad said he has seen students wear flip flops and T-shirts during the cold weather, which can be dangerous.
"You just never know what's going to happen," Trygstad said. "You slip and fall and you being outside for an additional 10 minutes can cause you to have frostbite."
Genesis Duarte, junior political science and Spanish major, experienced signs of frostbite first-hand her freshman year. She said it was a learning lesson for her to dress appropriately and check the weather before going outside.
"It was about 30 degrees. I was walking back to my dorm just in my sweatshirt and did not even think it was that cold," Duarte said. "An hour later, my thighs, arms and face were all in pain and it did not go away for several hours, even after taking a hot shower."
The SDSU Student Health Clinic sees about three cases of frostbite on campus each year.
Brenda Andersen, associate director at the clinic, said frostbite can be dangerous, but is also preventable.
"We have not seen any cases this year as of yet," Andersen said. "It is so preventable, just by covering your ears, toes, fingers and parts of your face."
To avoid potential frostbite, the National Weather Service suggests wearing at least three layers of clothing, gloves, a hat, an outer layer to keep wind out, a face mask and waterproof winter boots.
Even though Brookings is battered with winter storms each year, don't expect a snow day any time soon.
"SDSU Facilities and Services do a great job at maintaining miles and miles of sidewalks and roads internally," Trygstad said. "… We never really close during school season because we have residents who stay on campus that we have to house, feed and keep the heat on for."