Garst-Santos shares passion for Cervantes' and Spanish history at SDSU
Step into Christi Garst-Santos' office in the lower level of Wagner Hall, and it's easy to identify two of her greatest passions.  
Paintings, figurines and quotes from 17th-century Spanish author Miguel de Cervantes' "Don Quixote" show her devotion to Cervantes' work and Spanish history.  

"I think there are sometimes things that just catch your interest, and for some reason ("Don Quixote") spoke to me," Garst-Santos said. 
Another one of her passions can be seen in the framed award from the South Dakota Board of Regents for Organizational Leadership while she advised the Campus Women's Coalition, now Feminist Equality Movement (FEM), representing her devotion to human and women's rights and community activism.

Garst-Santos is interim department head of the department of modern languages and global studies and an associate Spanish professor at South Dakota State University. She was awarded the 2018 J.P. Hendrickson Faculty Scholar Award and delivered the 2018 Herbert Cheever Jr. Liberal Arts Lecture on Sept. 25.

Her lecture, #RapeCultureIsWhen Seventeenth-Century Spanish Literature Speaks to Our Me Too Movement, compared themes of rape culture in "Don Quixote," written in 1615, to issues faced today.

The lecture was in the Volstorff Ballroom, which drew such a crowd of students, faculty and community members that the room divider had to be opened and additional chairs added.

"That lecture she gave was probably one of the best lectures I've ever heard in my life," said her husband, SDSU economics professor Joe Santos. "It was fantastic and it included everything it needed to include. It was tough, it was forceful, but that's her nature. She's not one to sit by as injustice presents itself around her. She fights back."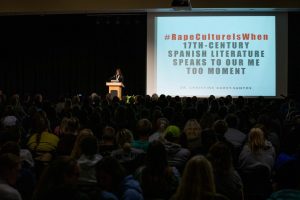 Garst-Santos arrived at SDSU in 1997 after finishing her master's in Spanish with a certificate in Chicano studies at Colorado State University.

She planned to stay at SDSU for a couple of years while she decided between getting her degree in Spanish or Chicano studies, but she met Santos at new faculty orientation and they were married less than a year later.

Other than a two-year leave of absence to finish her doctorate in Spanish at the University of Iowa, Garst-Santos has been teaching at SDSU ever since. She became interim department head last year.

In her time at SDSU she has received the Faculty Award for Global Engagement, the Edward Patrick Hogan Award for Teaching Excellence, and was named the Students' Association Teacher of the Year for the College of Arts and Sciences twice.

"Besides the wealth of information Christi offers, she has helped me discover learning opportunities inside and outside the classroom," said Allee Siver, a 2018 SDSU alumna with degrees in nursing and Spanish — who now works at the Mayo Clinic in Rochester, Minn. "She has role modeled how to stand up for others and she has mentored me in various ways."

Gast-Santos' interest in Spanish and Chicano studies sparked from family heritage that was nearly forgotten. Her late maternal grandmother was Mexican and Spanish but didn't speak Spanish around her family.

"When my mom was growing up at that time in Colorado, there were still signs on doors that said things like 'no Mexicans allowed," and so my grandmother didn't want to teach her kids Spanish. She wanted them to be Americans," Garst-Santos said.

She said the language came naturally to her, and tying her studies of early Spanish literature into current events like the #MeToo movement discussed in the Cheever lecture did, too.

Garst-Santos grew up on her parents' ranch in Montana, then moved to another ranch in Wyoming before she graduated high school. One of three girls, her father put her and her sisters to work. She said her father claims he "accidentally raised feminists" by having them work hard at everything they did.

"He always told us we can do anything and everything we wanted to," she said.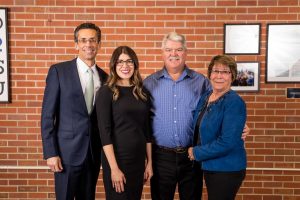 She took her feminist values to action by becoming the faculty adviser to the Campus Women's Coalition (CWC) and sitting on the board of directors for the Brookings Domestic Abuse Shelter.  
"I think this campus was very fortunate to get her," said SDSU English assistant professor Nicole Flynn. "I think she's sort of the ideal professor; I mean she came here as a professor with a higher teaching load, but immediately started taking on service commitments — running the CWC and being active in town"

She still regularly attends protests for human rights including, the DACA march in Sioux Falls, and protests against the detention centers separating families at the border.

"I like to really make sure that my research is tied to my service and my activism," Garst-Santos said. "I love the fact that I'm at a public university and in particular a land-grant university. I really believe in the land grant mission, which is we're here to take our work out to the public, that we're not supposed to be an ivory tower."

One program that takes her students' work to the public is through the CARA Family Detention Pro Bono Project in Dilley, Texas. One of Garst-Santos' former students approached her about an opportunity for Spanish-speakers to translate for women and children seeking asylum from their home countries.  

The CARA program provides legal assistance to the refugees, but it is critical the translations are correct for the families to get placed in the right program, according to Jose Alvarez, an SDSU assistant professor and Spanish Club adviser.

Even though Alvarez is now in charge of the CARA planning, he credits Garst-Santos with the school's participation.

"It's one of those projects that definitely came from her and now it's becoming its own thing," he said.

The Spanish Club has sent a handful of members each year around the time of spring break to act as translators. While no faculty go, Alvarez coordinates their trips and helps secure funding.
Connor Haaland, a senior majoring in Spanish, French and global studies, went to Dilley for the program.

"It was the most depressing week of my life, to be frank," Haaland said. "Rightfully so, these women were terrified to be sent home and to be in a new alien country, so my job was to help them feel a little bit of comfort about the asylum-seeking process that lay before them."

Alvarez said even though this service learning takes place in another state, the women and children are sent all over the country, and many find themselves in the South Dakota region. The Spanish Club still struggles to find money from local law offices and other organizations because they prefer to fund local projects. He said students on the upcoming trip next spring will have to search hard to find donors and other fundraising options.

Garst-Santos keeps herself busy aside from being a teacher and department head. She works as an unofficial adviser to many of her students, including Siver and Haaland.  

"She advised my independent study with the Honors College," Siver said, "Christi was integral in ensuring that I could graduate with a Spanish degree on top of my nursing degree in four years, for which I am incredibly grateful."

Garst-Santos also values research and academia. Within 10 days of the Cheever lecture, she presented another conference paper in Canada and hosted the International Conference on Global Human Rights at SDSU.

In the future, she wants to lead a study abroad trip that reads "Don Quixote" while traveling through Spain's regions the book is set in.
Garst-Santos lived in Valencia, Spain, for two years and frequently travels there with her husband. Santos said she immerses herself so far into Spanish culture that people think she is a local.

"I've traveled with her a lot through Spain and it's really something," her husband said. "Folks will ask her where she's from, and they mean where she's from in Spain."

Her main priority now is to finish a monograph she is researching and writing that compares "Don Quixote" to pop culture references in the musical Hamilton.  

"That has been really fun," Garst-Santos said. "I've taught it two times in class now and students have really loved it, so now it's becoming a paper."

She also hopes to continue her works as a human rights advocate by volunteering alongside her students in Texas for the CARA program next year.