Construction of a new housing complex is bringing major changes to the corner of Eighth Street and Jackrabbit Avenue.
The Southeast University Neighborhood will provide on-campus housing options to upperclassmen. The project has been seven years in the making and encompasses six new structures: a new apartment building that includes a full-service Starbucks and five townhomes.
According to Doug Wermedal, associate vice president for Student Affairs, part of the project's purpose is to improve spatial efficiency on the plot of land. Before construction began, smaller apartment complexes called State Village and State Court stood there. 
"On about 10 or 11 acres of land, you had 80 students living," Wermedal said. "Across the street in the same area of land, you had 800 students living [in Binnewies and Young]. That suggests something about the highest and best use of the land."
The apartment building will be three stories tall, have two wings and will sit on the northeastern sector of the lot.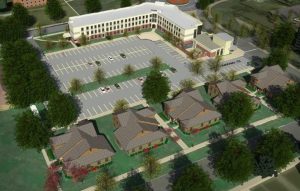 There are one- through four-bedroom options for residents to choose the number of roommates they can live with. Wermedal said students who look to pay the price of a four-bedroom apartment but are having trouble finding enough roommates shouldn't worry. Residential Life can assign roommates if needed.
Residents who move in don't need to bring much. Every apartment comes fully furnished including a table, four chairs, a couch, two side chairs and a washer and dryer.
"Nowhere else do you have in-unit laundry, nowhere else do you have two bathrooms, nowhere else do we have exclusively upperclassmen and apartment style settings," Wermedal said.
Pets are permitted in the apartments with appropriate documentation. Utilities, internet, damage deposit and parking are included in each month's rent. No meal plan
is required for residents of the apartments.
The five townhomes are on the southern edge of the lot. Each of them will have three, four-bedroom units. Each townhome will house 12 students, and each unit will have its own entrance.
"The townhouses are a little more private. There's no shared corridor between units," Wermedal said.
The rooms will also be slightly larger than in other on-campus options. Wermedal said the university plans to place double beds in townhomes rather than extra-long twins.
The furnishings and amenities offered in the townhomes will be similar to those in the apartments. Both the apartments and the townhomes are reserved for juniors, seniors and graduate students only.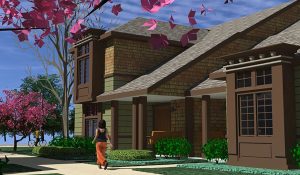 The apartment complexes are listed for as low as $545 per month for a four-bedroom apartment and up to $875 per month for a one-bedroom. The townhomes are listed for $755 per month.
The university set housing costs accordingly considering the benefits of this apartment and in respect to other options in the Brookings area.
A full-service Starbucks is the third major aspect to the project.
The addition of the popular coffee shop contributed to the decision to close Union Coffee, which served Starbucks products. The shop will be attached to the apartment complex and the hours will be more similar to Starbucks stores in Sioux Falls and Watertown rather than the kiosk in Hy-Vee.
Wermedal said the area will also act as a lounge to students over the hours Starbucks is closed.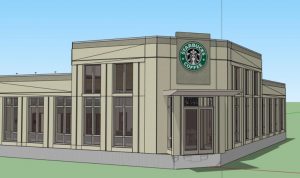 In total, the project itself acts as more than just another addition to campus. Wermedal said the intention is to give students the "full-fledged" apartment experience alongside the sense of convenience.
"The ability to pop out of bed at 7:58 a.m. and make that 8 o'clock class is an enormous blessing in a student's career," Wermedal joked.
Wermedal did offer one piece of advice: speak up now if you're interested.
"About 180 or so folks who have raised their hand and said 'I'd consider living there,'" Wermedal said, "but there's still going to be a chance to get in there."
The Southeast University Neighborhood project is scheduled to open in time for the fall 2019 semester.
Students who may be interested can request a no-obligation informational meeting by contacting Residential Life.
Anyone with questions or who is searching for information should contact Sarah Bisson at 605-688-5148 or go on the housing tab of the SDState website.