Local Foods Education Center donates over 5,000 pumpkins
SDSU COLLEGE OF AGRICULTURE, FOOD AND ENVIRONMENTAL SCIENCES
The South Dakota State University Local Foods Education Center has grown and donated over 5,100 pumpkins to the community, South Dakota State University and McCrory Gardens this fall.
Among these, around 2,300 were given to the community, serving as decorations in several public locations, including the Brookings City Hall and Swiftel Center. McCrory Gardens has 1,900 of the pumpkins on display, while the remaining 900 pumpkins have been distributed to offices and buildings on campus, as well as to the SDSU president's house, campus organizations/clubs and banquets.
The Local Foods Education Center Director Brett Owens said they are anticipating another 1,000 pumpkins this week. They are growing 43 different varieties this year. Of the 43 varieties, some of the pumpkins weighed over 500 pounds. The center also grew 3,000 to 4,000 ornamental sized pumpkins.
Students enrolled in the Local Foods and Horticulture classes, several student organizations and Local Foods Education Center interns and employees helped grow and harvest the pumpkins.
"This program is a great way to teach students about larger specialty crops," Owens said.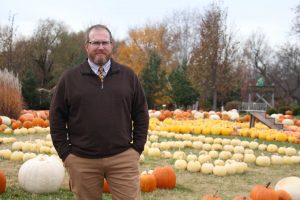 Since its start six years ago, the pumpkin program has been progressively growing.
"This is our biggest year yet for pumpkins," Owens said.
The pumpkins are grown on the N.E. Hansen Research Farm just east of Brookings as part of the Local Foods Education Center.