Everyone Yell MEHOY MINOY at the Campanile returns
A little bit of snow on Wednesday and Thursday didn't dampen the spirits for a unique Hobo Day tradition.
Despite the 27-degree temperature, more than 300 students gathered on Sylvan Green at 10 p.m. for the second annual Everyone Yell "mehoy minoy" at the Campanile event.
"Mehoy minoy" is a popular phrase from television show "Spongebob Squarepants." It's the catchphrase of comic villain Doodlebob, a character that Spongebob draws who magically comes to life on the children's cartoon.
This event, organized by senior history and political science major Dani Henkel, came into existence because "why not."
"I actually have Doodlebob tattooed on my [butt]," Henkel said.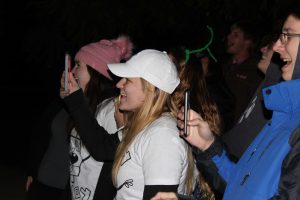 Henkel's love for the entire Spongebob series is so great, that, when her and her friend Sami Alfke, a senior psychology major, saw similar meetups taking place in California, they immediately hatched an idea.
"Why not do something on SDSU?" Alfke said.
The event began with a speech from Doodlebob, who speaks gibberish. Students then repeated iconic lines from the series, followed by the main attraction: yelling "mehoy minoy" into the cold, South Dakota sky.
Sophomore aviation major Michael Allen said he really enjoyed the event.
He explained how he appreciates how the event is an independent gathering and is not tied with any sort of commitments to a student organization.
"I'm here because this is a great get together with loose ties. It's all about having fun," Allen said.
Afterward, a group photo was taken and individuals had the chance to take one-on-one pictures with Doodlebob and other characters from the series.
Henkel said the event is definitely popular among students, as its nearly doubled its attendance from last year.
Although there is no date set, the tradition will continue next year..