A $3.5 million mansion will help South Dakota State University tell the university's story to dignitaries, alumni and potential donors on a far grander stage than the century-old house it replaced.
Officially called the President's Home, President Barry Dunn and First Lady Jane moved into the 11,000-square foot house the day of their 40th anniversary.
According to University Events Coordinator Jamison Lamp, Dunn and his wife did most of the decorating for their new home.
"President Dunn and Jane added touches to the home that make it personal and cozy," Lamp said.
The new house sits across the street from the Campanile on Medary Avenue and replaces Woodbine Cottage as the home to SDSU presidents.
The President's Home offers three levels, outside restrooms, fireplaces, a living room that hosts up to 35 people and an outdoor patio. The house is decorated with five Harvey Dunn paintings that will rotate throughout the years.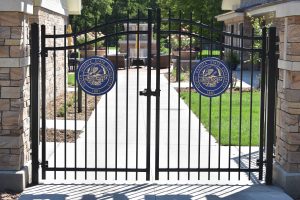 The original Woodbine Cottage will stay part of SDSU as a historic building. But the growth of SDSU and the old features of the house spurred the need for renovation.
Woodbine Cottage was not handicap-accessible and was limited in terms of hosting dinners and events. The new home offers an elevator and will seat 14 people at the dining table, while Woodbine Cottage could only seat eight.
Steve Erpenbach, president and CEO of the SDSU Foundation, said understanding the importance of the project requires understanding the importance of building relationships at SDSU.
"There will be lots of events at these locations that will be used for building those relationships," Erpenbach said.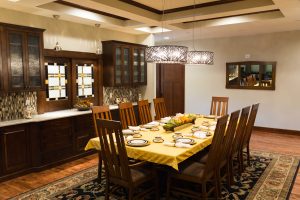 Since the house will be used for events, the Facilities and Services Department at SDSU will be in charge of the house's upkeep.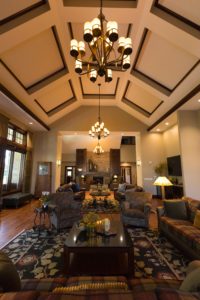 "SDSU Facilities and Services maintains the operational and maintenance side of the President's Home similar to many other buildings on campus," said Troy Syhre, director of custodial services at SDSU. "This includes anything from the grounds work, cleaning and electrical."
Facilities and Services will also be in charge of setting up for and cleaning up after events in the President's Home. The house also has a fully-equipped staging kitchen for the Aramark team to cater.
The home is part of the $11.5 million Alumni Green project. The Alumni Center will receive $8 million of project funds. Funding came from private donations; 90 percent of the total has already been raised, while fundraising is still ongoing until the total cost is covered. President Barry Dunn and Jane Dunn donated $50,000 for the project.