Sweet: Flyboy Donuts comes to campus
South Dakota State students are in for a sweet treat: Flyboy Donuts is now being delivered every Thursday to locations across campus including Java City, Union Coffee and both C-stores.
"I'm excited for Flyboy to be on campus," said Austin Rhode, a freshman animal science major. "I'm looking forward to going and getting some now."
The deliveries to campus include a variety of flavors such as raspberry, lemon and bavarian cream. Styles include donuts, bismarks and long johns, which Rhode said are his favorite type of pastry.
Flyboy owner Ben Duenwald, who has owned the company since 2014, said
delivering his store's popular donuts to South Dakota State only made sense because they already deliver over 100 dozen donuts to Brookings each week.
"We started selling to Bozied's in February and it has been very successful,"
Duenwald said.
Deliveries are also made to many other Brookings businesses including Daktronics, Brookings Health and some local banks.
The success isn't unusual — Flyboy isn't just a traditional donut store.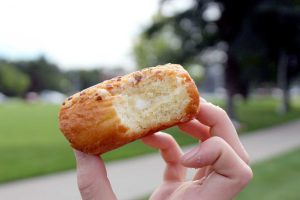 Founded by a fighter pilot and ultimately bought by Duenwald, Flyboy Donuts has been highly successful in Sioux Falls. Its first location opened in 2014 and they recently expanded with a second Sioux Falls location which opened in May.
The company prides itself on its grassroots, family-owned mentality.
"Larger stores can't have so much dedication to quality. The biggest difference [with Flyboy] is freshness," Duenwald said.
Flyboy was already contracting with Aramark in Sioux Falls, the same company that operates food services on campus. All it took was a simple conversation with the Aramark office on campus to expand to the SDSU market.
"A Flyboy rep contacted us," said Jamie Foerster, Aramark location manager for the Larson and Hansen C-stores. "It was a no-brainer."
Aramark reports receiving 12 dozen donuts each week. The four participating campus locations split and each receive three dozen. Foerster said her locations sell out every Thursday.
As long as demand for the donuts keep up, delivery plans won't change.
Duenwald said in the future he looks to deliver Flyboy donuts more frequently.
"Hopefully almost every day of the week," Duenwald said.
While Flyboy may be new to C-stores and coffee shops, it isn't new to campus.
Last October Flyboy provided the SDSU Foundation with coffee and donuts over Hobo Day, a tradition Duenwald is continuing this year.
Future plans include adding Flyboy coffee K-cups to C-stores on campus.
Duenwald hopes Flyboy coffee will make it to the C-stores by next school year.
In addition to deliveries to stores in Brookings and on campus, Flyboy also delivers to other areas like Mitchell and Vermillion.
For a certain fee, Duenwald said anyone can place custom orders on the Flyboy website.