Junk Jam event celebrates 'all things junk'
More than 40 vendors selling vintage, handmade, homemade and repurposed items will soon begin setting up their booths to prepare for Junk Jam on Saturday, Sept. 22 in the Swiftel Center Holding Barn.
Local Brookings business owners Aaron and Noelle Morford created the event to celebrate their passion for creating one-of-a-kind furniture and home decor for their business found by Funky Junk.
"Events of this kind are popular across the country, but there was nothing like it in the region. We decided the Brookings was the perfect location to gather our 'junker' friends from across the area for a one-day celebration of all things 'junk,'" Aaron said.
The event focuses on makers and small businesses from across the region, ranging from the Twin Cities to Iowa, Nebraska, Minnesota and all across South Dakota.
"We recently added on to our event, and added area food vendors to give us a more festive atmosphere," Aaron said.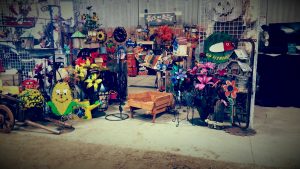 This event features live music throughout the day provided by Chris Champion of Madison and Kyle Knutson of Volga, both of which are familiar faces around Sioux Falls and surrounding area, and signature cocktails like Sangria and Moscow Mules. Junk Jam also provides entertainment for their smaller junkers.
W.H. Petting Zoo from Brookings will attend the event for the afternoon, bringing with them music legends like Reba, a miniature cow, Tom Petty, a llama, and B.B. King, a potbellied pig.
General Admission is $5 and begins at 10 a.m. Early Bird Tickets are available for $15 and let you into the event at 9 a.m. before the larger crowds of people enter at 10 a.m.
The first 50 people in line receive large reusable canvas totes provided by Found, which are filled with coupons and swag from the vendors.
For more information go to the Facebook event page.