Committee remembers traditions of Hobo Week
Thirty-five years ago on Hobo eve, the Hobo Day Committee united hands and ascended the 180 steps to the top of Campanile at midnight — a Hobo Day tradition. They prayed for a safe, fun and successful Hobo Day.
Recalling the event, Doug Wermedal, a member of that committee, was overcome with emotion.
"That's the first time I became aware I was doing something more than just having fun with friends," said Wermedal, associate vice president for student affairs. "I can still feel the power of what we were doing for campus. Then, I was, like I am now, overwhelmed by the bigness of the thing. I was just an undergrad kid having fun with my friends, I did not have a sense that I was part of a tradition going back to the 1910s, that would extend until I had my own kids."
Many of the events in place then have been around since the beginning of Hobo Day, and are still celebrated 105 years later.
Most of today's staple Hobo Week events are time-honored traditions going back to the early days of Hobo Week. Rally at the Rails, the event to kick off every Hobo Day, started in 1907, according to Hobo Day Committee Grand Pooba Anna Chicoine.
"It started during the Night Shirt (parade). On Friday night, students walked to the railroad station, met the opposing team to welcome them to town and rouse them up a bit," Chicoine said.
Alongside Rally at the Rails, Bum-A-Meal is a long-standing Hobo Week tradition. As students would make their way back to campus from the railroad, Chicoine said they'd stop at houses with their porch light on to get a can of soup. Once everyone returned to campus, students gathered to have a meal together over bonfires with the food they collected from community members.
"Another part of that is the Bum Fire on Tuesday night after Bum-A-Meal, which we added back last year," Chicoine said. "It brings students back together after going out in the community. We serve hot chocolate, the cheer team comes, the Bum Band comes. It's a lot of fun."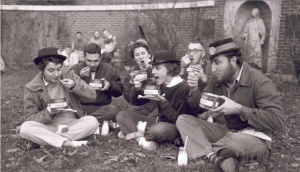 For 2014's Grand Pooba Scott Deslauriers, Bum-A-Meal "rises to the top" of his favorite events leading up to Hobo Day.
"The opportunity to meet a family one doesn't know and enjoy a meal around a table is an incredibly unique experience," Deslauriers said. "Bum-A-Meal fulfills a central goal of Hobo Day, which is to connect the university and the community."
The Hobo Day parade is unbeatable for Wermedal, though. He reminisced about hobo-mobiles and the committee working together to push the Bummobile through the parade when it was less than functional. It felt like the entire town and student community came together for the parade, Wermedal said.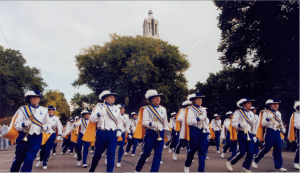 Before the big day, there's Hobolympics, formerly known as the Great Hobo Race, on Wednesday night. This will be the second year of the revamped Hobolympics, followed by the Bum Over Thursday, an event dating further back, in which students build a shanty village out of cardboard boxes.
On the morning of Hobo Day, the grand pooba is headquartered at "Pooba Corner," Deslauriers said, which is the intersection of Medary Avenue and North Campus Drive.
"The ability to literally see the work of more than a year of planning and implementation by the entire committee come together creates an intense pride and humility in contributing to this more than a century-old tradition," Deslauriers said.