While you were gone: Five substantial changes at SDSU
SDSU is not the same as it was when students left in May. Campus is constantly evolving, and it can be hard to keep up with the changes. Here are five transformations you may have noticed since returning to campus: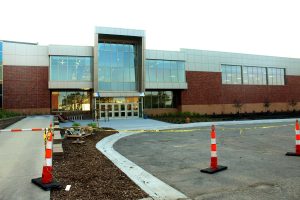 Campus construction update
Construction continued on the additions to Frost Arena, the Performing Arts Center (PAC) and the Wellness Center over the summer months.  The 30,000 square-foot addition to Frost Arena will house the practice facilities for basketball, volleyball and wrestling and has an expected completion date of November 2018. The 100,000 square-foot addition to the PAC as well as the Wellness Center expansion are expected to be completed in December 2018.
College realignment
Several changes altered the SDSU academic landscape. The departments of biology and microbiology, chemistry and biochemistry, physics and geography moved to the newly created College of Natural Sciences. Additionally, the College of Arts and Sciences and the College of Agriculture and Biological Sciences received name changes to the College of Arts, Humanities and Social Sciences and the College of Agriculture, Food and Environmental Sciences. The Department of Economics was absorbed into the College of Arts, Humanities and Social Sciences. University College was eliminated and the exploratory studies program was moved to the Department of Counseling and Human Development located within the College of Education and Human Sciences.
The changes are expected to be "minimally disruptive" to students and faculty in their day-to-day activities according to Dennis Hedge, South Dakota State provost and vice president of academic affairs.
New dean
Bruce Berdanier became the dean of the Jerome J. Lohr College of Engineering July 2. Former dean Lewis Brown retired in June after serving in the position since 2001. Berdanier held the position of department head for civil and environmental engineering at SDSU from 2008 until 2013 and returned to SDSU after serving as the dean of the School of Engineering at Fairfield University in Connecticut.
Caribou Coffee
SDSU students have a new choice for where to find their coffee. Caribou Coffee is now being served at the Einstein Bros. Bagels location in the Student Union. The change comes as JAB Holding Company, owner of both Caribou Coffee Company Inc. and Einstein Bros. Bagels, continues to implement the Caribou Coffee brand into the popular bagel store chain nationwide. JAB Holding Company has owned both Caribou Coffee and Einstein Bros.Bagels since 2014 and has been introducing Caribou Coffee branded products to Einstein locations ever since.
D2L update
Desire2Learn (D2L), the learning management interface used by South Dakota Board of Regents schools,
received an update in May. The website's visual elements were updated, but the basic functions of the site remain unchanged outside of a new way to arrange current courses on the homepage. D2L was
further updated to help educators through the addition of a class progress tool and
ability to analyze class data in
daily increments.