For college students, a summer break often means returning home to family and friends in the Midwest and choosing between a part-time job or working on a tan.
But international students at South Dakota State are faced with a different choice for the summer: stay within the U.S. or travel thousands of miles to return home.
For the over 750 students, returning to their home for the summer months can sometimes cost thousands of dollars. Some avoid the chance to see friends and family again out of fear that their return home could put them at risk of being denied entry to the U.S. for unforeseen legal reasons.
This is the case for junior Kaveen Jayamanna from Sri Lanka.
Jayamanna arrived in Brookings in 2016 to study electrical engineering. He has not returned to Sri Lanka since.
"The primary reason is because the plane ticket is so expensive," Jayamanna said. "But also, I would miss work here and lose the chance to earn money so that I [can] buy insurance, new books and stuff for the next semester. I don't want have to ask my parents for money when I'm here."
Another reason that Jaymanna has not made the return to Sri Lanka is because he fears complications could arise with his visa when he attempts to return to Brookings.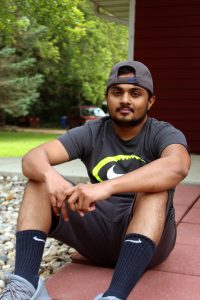 "I have heard stories that international students who go back and then they don't have the visa to return, so they have to reapply or wait, but they could miss school," Jayamanna said.
The road to approval for an American visa was very difficult for some international students. Students must often demonstrate a proficiency in English and maintain a certain grade point average. But they must also show they are financially able to support themselves in America. Students are asked to have tens of thousands of dollars at their disposal to be considered for entry to the U.S.
The Office of International Affairs aids international students entering SDSU. Greg Wymer is the interim assistant vice president for International Affairs and the director of International Students and Scholars at SDSU. He said the visa application process is often tough for international students.
"Not only is it an expensive process to apply for a visa, but it is a difficult process to navigate. You're also dealing with the subjectivity of the vice councils in the embassy staff," Wymer said. "In most cases, they're trying to do their best job to determine who is an immigration risk versus who is not. But those visa processes are very quick. Students only getting a couple of minutes to talk with the consulate."
Jayamanna spent the summer primarily working part-time on a research grant he was awarded in chemistry and at the Performing Arts Center setting up equipment. He said he plans to return to Sri Lanka this December to reconnect with family there. He hopes his visa will still be valid when he attempts to make his way back to school in Brookings.
After being gone for two years, junior Grace Kavunge from Ivory Coast returned home to see her family and friends this summer. While Kavunge said she missed her country's food and weather, she said the things she most missed were the people.
"Oh my God, I was so happy to see my family and especially my younger sister and my friends," Kavunge said. "I was crying like a baby when I met them again."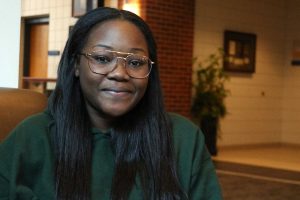 Kavunge said her experience studying at SDSU has been rewarding for her, but also said that adjusting to life here was not always easy, especially when meeting new people.
"It's hard to make friends here. I missed a lot from my home," Kavunge said. "Here, people can be reserved and not open to talking to people different from them. That's why I like having the big international community on campus."
Kavunge also worries about how public policy could affect her chances to stay in America and study in the future or obtain a job.
"I worried that if I go over there, I wouldn't be able to come back here," Kavunge said. "I only have one year left. Not coming back here when I know the education system here would be too hard."
The International Affairs office works hard to ensure international students can return to SDSU's campus with ease, but Wymer said "students have a right to be concerned when traveling out of the country."
"If students don't have an expired visa, they should be fine," Wymer said. "But, we always use the word 'should,' because we can't guarantee what will happen at the border, what will happen at the embassy when the students leave the country."
The International Affairs office estimates that there has been a drop of at least 90 international students at the university in the last year, possibly the result of current rhetoric against immigration coming from the Trump administration.
For some international students, the summer was spent preparing to enter classes at SDSU. This was the case for freshman Kathy Oh from South Korea.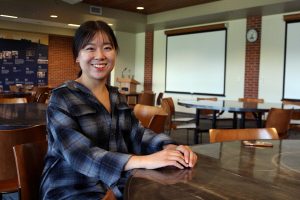 Oh, a pharmacy student, arrived in Brookings in March of this year to study English in the English as a Second Language program (ESL). For her, the summer was a bit solitary after having completed the ESL program.
"It can be very lonely over the summer because there is nothing to do in Brookings," Oh said. "It is hard for me to express myself and opinions, so I had to focus on learning [English]."
But what does help to alleviate boredom and loneliness, Oh said, was having other international students around her.
"I had fun when I went to Orlando, to Disney World with some of my international friends," Oh said. "Having them with me is good because we have the same experience coming to Brookings and learning the language too."
The International Affairs office sponsors a summer program, Summer of Fun, as a relatively low-cost collection of free events within the South Dakota area for international students. The office arranges transportation for students for these events including an Independence Day event and a camping getaway.
For Oh, she senses the office's and the university's steps to make her feel included on campus so far and looks forward to her classes this semester.
"[Brookings] has been a very good place for me. People are very nice and helpful," Oh said. "They are understanding for the Korean students here, so I am happy I am here."