Wellness Center implements new dress code
The South Dakota State Wellness Center recently updated its dress code policy, spurring an array of reactions from the recreation center's users.
Sophomore art education major Kenzie Shubert said the gym is a place where people should be free to work out in whatever attire they feel most comfortable in without worrying about being turned away at the front desk.
"It's the same when people go running on the street," she said. "You don't see the city pulling people over and asking them to change."
Operations and events coordinator for the Wellness Center Carson Petersheim said the policy is intended to keep students and other patrons of the gym safe from any illnesses or skin diseases that could be transmitted from skin to skin or skin to equipment contact.
"We all know not everyone wipes down their machines like they're supposed to every time they're done using it," he said. "Having that barrier, even if it's, you know, not very thick … just helps protect the safety of the students."
Shubert said enforcing a rule in which women can't show their midriff doesn't prevent skin from touching equipment, and it seems to be a policy directed more toward ensuring women are "appropriately" dressed.
 Petersheim said the rule isn't a "modesty thing," and the new policy is a way for the Wellness Center to be "proactive" instead of "reactive" in case someone was to contract a disease or illness after using equipment in the Wellness Center.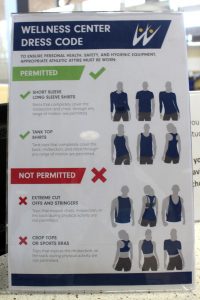 "I understand where they [females] are coming from," Petersheim said. "I feel like we've had more guys upset that they can't wear their low cutoffs than anything else," he said."
Petersheim applauded his staff for their work enforcing the dress code during the first few days of the school year.
"I think they [the staff]  actually did a really good job yesterday," he said. "I know they get the brunt of the complaints and having to confront the patrons."
Petersheim said the Wellness Center's new dress code is pretty standard at schools across the nation, and they implemented it to ensure gym-goers become familiar with the Wellness Center's expectations.
The old policy stated the Wellness Center staff held the rights to decide what was appropriate and what wasn't, something Petersheim said left a lot of "gray area" when it came to keeping those standards consistent.
"This is like a way to clarify what we expect, what we deem acceptable, and then we can kind of go from there," he said.
Senior exercise science major and Wellness Center operations manager Tristen Rush said the staff tries to catch people as they're checking in at the front desk.
"We try to stop them [gym patrons] before they start their workout, that way they can leave before mid-workout," Rush said.
Rush said the people he's had to talk to about the policy have been relatively understanding about the new rules, and he had yet to experience any serious backlash.
"It all comes back to safety and health," Petersheim said. "I mean, we are the Wellness Center, that's what we're all about."