Aviation program to visit Cheyenne River Indian Reservation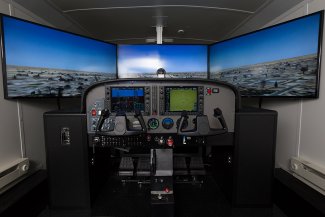 A friend got C.J. Lamb into aviation. He's hoping to repay the favor by helping South Dakota State University's aviation program train the next generation of pilots. Lamb, a senior from Spearfish, and the program do various outreach events to expose students to the skies.
"I feel like I'm blessed to be in this situation and never expected this. I didn't know what I wanted to do after HS. I never thought aviation would be a possibility for me," Lamb said. "I'd like to help other people who might be interested get into it because I got into it through a friend. I like reaching out to people and letting them know it's possible to be a pilot."
Lamb and classmate Madison Yueill have helped plan the program's May 10-11 trip to the Cheyenne River Indian Reservation. They also worked at the East River Aviation Symposium, held in March at the Brookings Regional Airport.
"It's good for our senior-level students to think through the logistics of planning an event like this," said Cody Christensen, who leads the program. "We hope to show that aviation is a viable career and that one can earn a good salary and be able to be live close to home."
Christensen said nearly 2,000 people have sat in the program's simulation trailer in the past 15 months.
"Since we can't take an airplane to every location whether that's due to weather, available pilots or other concerns, the simulator allows students to have the opportunity to fly an airplane," Christensen said. "We typically try to recruit seventh- and eighth-grade classes and show them that an aviation career is possible."
In fall 2013, SDSU became one of the nation's first programs to have graduates eligible for the Federal Aviation Administration's Restricted-Airline Transport Pilot certificate. It has seen a 40 percent growth in enrollment and has graduates flying for Southwest Airlines, the South Dakota Air National Guard and UPS.
"It's good to try to expand the aviation community. It's been great to me so far," Lamb said.
Christensen has been working with Sam Dupris, a member of the Cheyenne River Sioux Tribe and S.D. Aviation Hall of Fame member to recruit Native American students.
"My goal is to get five students scholarships to attend SDSU and join the aviation program," said Dupris, who worked for more than 25 years with the Federal Aviation Administration. "I'm willing to start slow as we need to educate students, parents and faculty on how to be successful with the program. We need students to be disciplined and determined to the complete the program. It's going to take hard work and will take money. Aviation was a great career for me and I want to encourage others to do the same."
Like Lamb, Yueill discovered aviation while in college.
"I didn't think about aviation until I was in college when I met a woman who was a pilot," said Yueill, who is from Bloomington, Minnesota. "After talking to her, it changed what I wanted to do the night I met her. If we can catch them at this younger age, it should help them out. I think our biggest goals from this event are to develop interest and give all of the students an opportunity to go do it."