GOP gubernatorial candidates plug qualifications
DANA HESS
THE S.D. NEWSPAPER ASSOCIATION
Sioux Falls — Two candidates seeking the Republican nomination for governor did not differ much on the issues, instead used most of a debate to offer their qualifications for the office.
The debate between U.S. Rep. Kristi Noem and S.D. Attorney General Marty Jackley took place Saturday at the annual convention of the South Dakota Newspaper Association.
The debate was moderated by Mark Roby, retired publisher of the Watertown Public Opinion and the Aberdeen American News. Reporters questioning the candidates included Seth Tupper of the Rapid City Journal, Stu Whitney of the Sioux Falls Argus Leader, Robert Slocum of the Timber Lake Topic and Brianna Schreurs of the Collegian at South Dakota State University.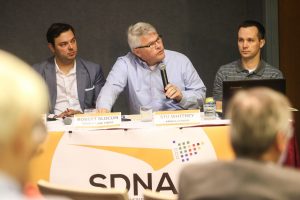 "I think really, when you look at it, who's ready to take over the role of being the next governor of South Dakota, these races tend to come down to experience," Noem said, noting that she has been prepared through her experiences in farming, business, serving in the state Legislature and in the U.S. Congress.
"When you look at executive experience, I've had the opportunity to learn that firsthand as a partner running a Main Street business, to learn it as your United States Attorney, as your attorney general and as chairman of the nation's attorney generals," Jackley said.
Asked what it means to be a Republican, Noem said it was a belief in a smaller government role in the lives of its citizens.
"Republicans look to balance budgets, pay off debts, give people more freedom and opportunities," said Noem. "It's a little bit of a challenge being a conservative in Washington, D.C., because of the things that are going on."
"I'm a Republican because I believe in limited government," Jackley said. "I'm a Republican because I believe that we need to protect taxpayer dollars and balance our budget."
Both candidates said they would work to strengthen education in South Dakota, work to broaden the economy if the Internet sales tax lawsuit fails, bolster the agricultural economy, work on housing, jobs and Internet connectivity as a means for keeping more young people in the state and continue to combat human trafficking.
The candidates agreed that if elected governor they would likely sign a constitutional carry law that allows citizens to carry handguns without a permit.
Noem said gun rights are under fire. "We are at war at the national level," she said.
Jackley said the legislation contains protections to keep handguns out of the hands of people convicted of a violent crime, a drug crime or those treated for a mental health issue.
"Yes, I will sign that legislation because it protects our Second Amendment rights, it protects our communities," Jackley said.
Throughout the debate, Jackley asserted that the federal government in Washington, D.C., isn't solving its citizens' problems, calling for the state to come up with "South Dakota solutions."
This tactic wasn't lost on South Dakota's sole representative in the House.
"I know Marty's talking a lot about Washington and he's kind of hoping as he throws mud at Washington, it sticks to me, but my record on this is clean," Noem said, noting her vote against the recent $1.3 trillion spending bill.
While both candidates said that the federal government isn't doing all it can to help South Dakotans, they both had praise for President Donald Trump. Jackley said the president's plan for a southern border wall will help combat methamphetamine and opioid addiction. Noem praised the tax cut championed by the president, saying that it put $2,400 more in the pocket of each South Dakota family of four.
Both candidates called on the memory of former Gov. George Mickelson and his efforts to build reconciliation between whites and the state's Native American population.
"I'm a mom," Noem said. "I know how those moms on the reservation feel when they see that the opportunities for their kids are limited. We, years ago, talked about South Dakota having a reconciliation opportunity with our tribes and I think that's in front of us again."
Jackley noted his relationships with the tribes and his appointment of special assistant attorneys general in tribal law enforcement to enhance cooperation.
"I think it's based upon that relationship I've built with them that a reconciliation like Gov. Mickelson envisioned can and will happen under a Jackley administration," the attorney general said.
Asked how the state could avoid future scandals like EB-5 and Gear Up, Jackley noted that those were federal programs. He said since those scandals he has sponsored legislation to protect whistleblowers and better regulate state agencies using federal funds.
Noem noted that the money from the federal programs was administered by the state.
"We've been making headlines for scandal and mismanagement and million dollar settlements," Noem said. "We should be making headlines for the wonderful things that we're doing in the state."
The candidates disagreed on how to tackle the state's problems with Noem taking issue with Jackley's history of forming task forces to address issues.
"You don't have to form more government in order to listen to people," Noem said. "I'm a big believer that you don't have to go forward and create a new task force to address an issue."
Jackley said it was a practice he would continue as governor.
"I will put the right people together in task forces," Jackley said. "That's not more government. That's utilizing citizens to be able to help make government better, to make government more transparent."
The winner of the Republican nomination for governor will face Democrat Billie Sutton in the fall. Sutton does not face a primary challenger. The winner of the general election will replace Gov. Dennis Daugaard who is term-limited.