LeBeau to receive honorary doctorate of public service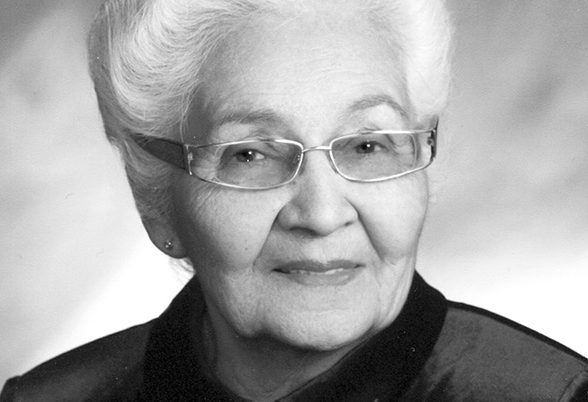 UNIVERSITY MARKETING AND COMMUNICATIONS
Whether it was serving her country or other people, Marcella (Ryan) LeBeau has always answered the call.
For those actions, LeBeau—known in Lakota as Wigmuke Waste' Win (Pretty Rainbow Woman)—will receive an honorary doctorate of public service at South Dakota State University Saturday. She will be honored during the 10 a.m. commencement ceremony.
After earning a diploma in nursing from St. Mary's Hospital in Pierre, LeBeau left her native South Dakota to start her career in Michigan. However, she soon answered the call to be a member of the U.S. Army Nurses Corps. While serving from 1943-46, she cared for soldiers from D-Day and the Battle of the Bulge. In addition to other honors, LeBeau was among 100 World War II American veterans flown to Washington, D.C., in 2004 and awarded France's highest civilian award, the French Legion of Honor, at the French Embassy on the 60th anniversary of D-Day.
When she returned to the U.S., LeBeau worked for Indian Health Service for 31 years. She was elected to the Cheyenne River Sioux Tribal Council and served for four years. Her leadership in health policy was also a factor in her induction into the South Dakota Hall of Fame. She has also inspired many to pursue a career in nursing.
Her commitment to others was evident in Rapid City during its 1972 flood when she and other nurses volunteered emergency triage care at the American Red Cross station in downtown Rapid City.
LeBeau retired from the Indian Health Service in 1989, but remains active in Eagle Butte and served on a tribal council that outlawed smoking on the reservation. The Cheyenne River Sioux tribal member still speaks regularly about her experiences.