Honoring Bonnie Leucke, 'heart and soul' of SDSU Air Force ROTC
Hang on for a minute...we're trying to find some more stories you might like.
About 200 ROTC and community members gathered under one roof to celebrate the retirement of the "heart and soul" of the South Dakota State Air Force ROTC detachment.
AFROTC secretary Bonnie Leucke is retiring after 31 years of what cadet Cole Jorgensen describes as "selfless service."
"Over the course of her three-decade career, she has influenced the lives of over 350 Air Force Officers, many of whom she is still in close contact with today," he said.
Leucke had a gift for knowing cadets, according to Lt. Col. Brian Schroeder.
"She remembers all the cadets that go through ROTC, and it's hundreds and hundreds of people," Schroeder said. "I can point to a picture of cadets and Bonnie can tell you their name, or at least a story or something about them."
For cadet Jacob Carlson, Leucke was one of the first people he met when he decided to join the Air Force and feels like she is his detachment "mom."
"When you come into college as a freshman you feel like  you're one student of a million other students," he said. "But she made you feel like you were really special and you were special to her."
Carlson organized the retirement ceremony. People came from all over the country to wish Leucke a good retirement.
Leucke was "in awe" of the 80 Air Force ROTC alumni, 60 ROTC cadets and community members that attended the retirement ceremony at McCrory Gardens.
Capt. Riley Hestermann said it was "pretty cool" to see people forced to stand at the ceremony because the 160 seats weren't enough.
The ceremony included speeches, an open mic, a meet and greet and a presentation of gifts.
Leucke was coined by 15 alumni. Coining is an Air Force tradition where challenge coins are presented as recognition for hard work and excellence an individual has displayed, Carlson said.
Alumni also sent in patches from their different stations and notes that were placed in a book for Leucke. She also received a flag that was flown over the Pentagon.
Head football coach John Stiegelmeier was among one of the guests there. He presented an SDSU football to Leucke, who Schroeder said is the "quintessential Jackrabbit," and a season ticket holder.
"One theme was constant: she cares," Hestermann said.
After retiring, Leucke is looking forward to spending more time with her grandchildren and working in the community. But cadets won't go without seeing her again, Carlson said.
"She'll still be around because she loves us so much."
About the Writer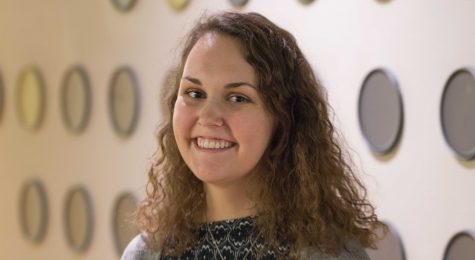 Brianna Schreurs, Editor-in-Chief
Brianna Schreurs is the Editor-in-Chief of the Collegian. She's really into saving the planet, coffee and taking pictures of trees. Check out her stories...