Patel named State's first AFA NIET All-American
UNIVERSITY MARKETING AND COMMUNICATIONS
BROOKINGS, S.D. – April 20, 2018 – Viraj Patel has come a long way from his first forensics tournament as a timid college freshman. However, some of those same emotions came to the surface after his most recent honor, being named an American Forensic Association National Individual Events Tournament All-American. He is South Dakota State University's first since the all-America program started in 2000.
"I was petrified. I was terrible. I hadn't done an impromptu or extemporaneous speech before; I was a hot mess," Patel said of that first competition. "Ironically, I had those same feelings when I got the all-American honor. It was, 'Oh my God, what did I get myself into?' I cried but knew this was something I'd chosen to do and now I have to be good at it."
In order to be named an all-America, individuals are selected based on scholastic achievement, AFA-NIET forensic participation and community service.
Neither forensics nor his all-American status were on Patel's mind when he arrived at South Dakota State from Mumbai, India. He was interested in film studies.
However, he stumbled across the Jackrabbits Forensics program and he became a speech communication major with plans to attend graduate school in the field.
"Speech taught me to stand up on my own two feet, and defend not only my opinions, but also the opinions of other people who may not be able to defend it well," he said. "Through forensics, I found my true passion.
"If I didn't stumble upon Jackrabbits Forensics, I would not be able to have my dream of working in U.S. politics," Patel continued. "It definitely impacted my career at SDSU but it has also changed my life, gave me my passion. Jackrabbits Forensics has the tagline of 'speak your passion.' That truly has stuck with me."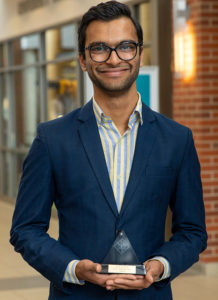 Patel's was the first name announced for the honor, which reviews one's efforts in service, competition and academics.
"Viraj's honor is reflective of his dedication to excellence in all aspects of his college career," said SDSU coach Andrea Carlile. "As the first SDSU student to receive this honor, it highlights the growth of the forensics program to rise to renewed heights of national success."
As the first one at State to win the honor, and being the first name announced, Patel was at a loss for what to do next at the event, held in Colorado Springs, Colorado.
"I wasn't sure what to do other than walk up and get the award," he said. "It felt like a bus hit me because I was crying and all over the place. I hadn't been up on that stage before, and I didn't know what it was like to be an all-American. While my life isn't any different from what it was before, I now have to live up to the promise of being an all-American."
Honors seem to follow Patel and his efforts. He serves as a senator of the College of Arts and Sciences, where he was named Senator of the Year. He is also involved with the Van D. and Barbara B. Fishback Honors College.
"I am going to be a Jackrabbit for the rest of my life. That is not going to change at all, but being actively involved in campus activities … impacting real change on this campus as a student is what I will miss a lot," he said.
"One thing South Dakota State taught me is that if your tomorrow isn't better than your today, you aren't doing something right. Doesn't matter if you are taking a small step or a large step, just take a step in the right direction every single day."
And that advice includes making a step in the right direction onstage.