Alumna to deliver keynote at Women's Leadership Summit
SOUTH DAKOTA STATE UNIVERSITY
UNIVERSITY MARKETING & COMMUNICATIONS
NEWS RELEASE
BROOKINGS, S.D. — March 29, 2018 – Josie (Hutchinson) Ahlquist '03 is excited to make a return visit to South Dakota State University.
Her first visit to campus in 1999 sold her on attending State and made her into the educator and business woman she is today. She hopes her upcoming visit will give attendees insights on the research and realities of social media.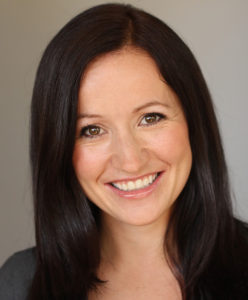 Ahlquist will be the keynote speaker at the April 10 Leadership Summit, held in the University Student Union. The event is sponsored by the women's and gender studies program, Leadership and Management of Nonprofit Organization Programs, University Program Council, Nonprofit Leadership Alliance, Office of Career Development, SDSU Extension, LeadState, Women and Giving, and the College of Arts and Sciences' experiential learning certificate program.
"The rules of the game have changed so much since I was a college student," Ahlquist said. "The decisions I made, the things I chose to do in college would have been much different if I had a smartphone. Now, part of what it means to be a human in 2018 involves social media.
"I want to talk about ways to not just survive but thrive in the emerging technologies that show up everywhere. We need to talk about not just the worst-case worries of social media, like what you shouldn't be doing online. I want individuals to feel empowered and excited to use the tools; I want to open minds to the possibility of being a content creator not just a consumer."
In addition to Ahlquist's keynote, the summit will discuss digital leadership, wellness and communication skills. The conference will also feature a panel discussion with career professionals and an experiential learning poster session.
"We are excited to have Dr. Ahlquist as the keynote speaker for the Leadership Summit this year. She is an engaging and dynamic speaker," said Elizabeth Tolman, professor and women's and gender studies coordinator. "The event is designed to provide sessions that are timely and relevant to students, as well as a broad audience. Attendees will connect the content to their personal experiences and enhance their self-reflection about their technology use and the implications."
Because of how much she liked figuring out what to do with her life, Ahlquist initially thought of being a high school guidance counselor. She was an orientation leader for three years and became very involved throughout campus. After playing three seasons with the Jackrabbits women's soccer team and graduating with degrees in sociology and human development and family studies, she decided to work at the college level. As a result, she earned a master's degree and a doctorate and now works as a speaker, researcher and author on higher education digital leadership now living in California.
Ahlquist dove into researching, teaching and consulting on social media after starting a blog when pursuing her doctorate.
"I just had this thought, after getting some really good feedback from faculty on my coursework, what would I learn if I was able to share with the world what I was doing in the classroom? I would take papers I had written and make them digitally digestible," she said. "This connected me with other scholars and professionals around the globe. Now, not only do I have my thoughts about social, but I also have the data to document what I was talking about."
Ahlquist's blogging has been recognized for three-straight years as one of the "Top 50 Must Read Higher Education Technology Blogs" by EdTech Magazine. Her podcast, Josie and The Podcast, has also been featured in a number of education podcast lists.
"It was my mom, a kindergarten teacher, who was my early tech influencer, like giving me a palm pilot in college," she said. "She opened my eyes to possibilities with edtech. I'm honored to do this kind of work and be able to share what I've learned with others around the globe."