I control: SDSU pounds Oral Roberts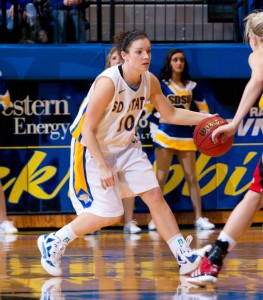 In what could only be described as a tale of two halves, the SDSU women's basketball team cemented their place atop the Summit League with a win over Oral Roberts, Feb. 6.
The Jacks overcame a sluggish first half and went on a 19-2 run in the second half, putting the game away against the Golden Eagles with a 70-51 win and firmly asserting themselves as the leaders in the conference regular season title race.
The run started with an unconventional three-pointer, an intended lob pass from Gabrielle Boever to Jennie Sunnarborg, and long distance shots from Jill Young, Tara Heiser, and Ashley Eide, eventually building a double-digit lead that the Jacks never gave up.
"That was a big win for us. We haven't beat them in the regular season for a couple of years. We lost a close one down at their place. To be ready to go tonight, it took us a few minutes to get things going," Young said, who made six three-pointers for the Jackrabbits.
The Jacks were led by Young, who finished with the second double-double of her career, with 19 points and 10 rebounds. She was followed by the only other Jackrabbit to be in double figures, fellow senior Jennie Sunnarborg, with 18. It was the 16th time that both Young and Sunnarborg both reached double figures this season. The Jacks still held a 12-5 advantage in bench scoring, but the starting five took on a much bigger role, something head coach Aaron Johnston is happy with.
"Starters have to play like starters, and I thought that group as a whole really played like a starting five tonight," Johnston said. "Jennie and Jill were even a little better as seniors. I thought they really rose to the occasion and really gave us some good minutes."
For ORU, the biggest problem was the lack of production from Summit League all-time scoring leader Kevi Luper, who finished in single digits in the point column for the first time this season since the Jan. 14 game against IUPUI. While ORU did get a solid performance from Jaci Bigham with a game-high 23 points, head coach Jerry Finkbeiner said that kind of production slip is not common from Luper, who finished 4-for-18 from the field.
"Very, very strange. 48 hours ago, she probably had the cleanest, most efficient, easiest 41 [points] anyone will ever have. It was almost too easy," Finkbeiner said. "I thought she had open shots but she didn't make them, and then she got frustrated, which is not typical Kevi Luper. That really hurt us."
The Jacks are now three games ahead of their next closest competitor in the Summit League with five games remaining. The Jacks will play at UMKC, Feb. 11 and then have their final away game of the season against USD in Vermillion Feb. 13.