SDSU rallies past Oakland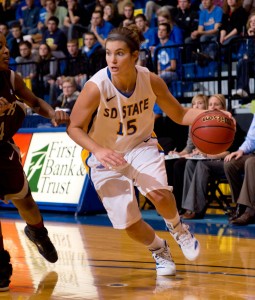 The SDSU women's basketball team  got a key win thanks to another big game from the bench in a rematch of last year's Summit League championship game against Oakland.
A 12-0 run early in the second half proved to be key in erasing the six point halftime deficit and led to a 61-51 victory. A drive started by four points from Katie Lingle, a quick bucket from Hannah Strop, and consecutive threes from freshman Rachel Walters got the drive started with 12 points off the bench. The productive bench scoring was once again crucial, as SDSU (15-7, 10-1 Summit) outscored the Oakland (10-10, 5-6 Summit) bench 24-3, improving the margin to 96-22 in the past four games.
After a shaky performance against IPFW, the Jackrabbits were looking for a big win over a Summit League opponent. The Jacks starters were led by Jill Young, who put in 15 points and Ashley Eide with 10, but the real story was the contributions from the bench, including a six-point, seven-rebound performance from Lingle and a career-high 12 points from Walters.
Even though the second-stringers were highly productive, the Jacks led in nearly every team stat, topping Oakland in field goal percentage, both offensive and defensive rebounds, total rebounds, assists, and free throw percentage. Such statistical dominance played a role in the victory.
Oakland was led by a game-high 25 points from Bethany Watterworth and 11 from Sharise Calhoun, but failed to get anyone else in double figures in what would prove to be an offensively disappointing game for Oakland. The lone bright spot for the Golden Grizzlies was the all-time, blocked shots record set by senior center Brittany Carnago. Carnago would end up with two stuffs on the night.
Thanks to a USD win over Oral Roberts, the Jacks are now three games ahead of Oral Roberts in the Summit League standings. The rest of the league is tied up within two games of each other in the middle of the conference, while IUPUI brings up the rear.
While these standings won't be horribly important until the Summit League Tournament, the cushion is comforting heading into a weekend bout with Southern Utah and a matchup with Oral Roberts on Feb. 6. The Jacks are seven games away from the conference tournament and their opponents have a mediocre combined record of 33-39 in conference play.
Next up, the Jackrabbits will play host in a Feb. 4 pairing with Southern Utah (5-16, 1-9) in the 40th Annual Pork Classic.