Gutting it out with Griff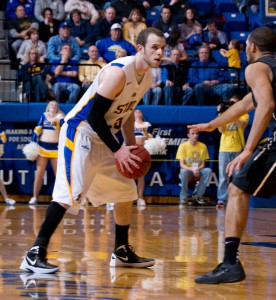 The playing style is in his look. He's the player with the most prominent beard. The chiseled jaw. There are no frills.
Griffan Callahan looks tough and he plays the part.
The senior is one primary reason that SDSU has wrapped up its best regular season to date since moving to Division I, with 24 wins and one of the favorites to the Summit League Tournament, starting Saturday when the Jackrabbits open with IUPUI in Sioux Falls.
It's a far cry from a few years ago, when Callahan sat on the bench as a redshirt in 2007-08 and the Jackrabbits finished the season with just eight wins.
As a kid with six siblings and four brothers, Callahan was beat up in backyard games when he was young. He said that easily translated to basketball. Both SDSU and the University of North Dakota were in on getting Callahan to come play for them. SDSU wanted a decision early in the senior year and the Seneca, Ill., native wanted to wait. It wouldn't stay in place and Callahan was North Dakota-bound.
In early January 2008, Callahan left the UND men's basketball program for personal reasons. Those personal reasons were quite simple: he was a long way from home, he didn't know many people and things weren't going well in Grand Forks.
Enter SDSU. With his brother Garrett already playing for the Jackrabbits, it was a natural fit for Griffan.
"I just talked to Garrett and came down here at mid-semester. I missed my family and I got along with the coaching staff but I just didn't really fit in and the best choice was to come here [to SDSU]," he said.
"I think he just wanted to take his own path and after a semester, I think he figured out that this is where he wanted to be," SDSU Head Coach Scott Nagy said earlier this year.
Callahan is likely the toughest player on the team, evidenced by starting the last 62 games — 31 in each of the last two seasons — and he has made it his mission to translate a tougher style to the other players on the team.
"I enjoy it. I don't shy away from it, that's for sure," Callahan said with a grin. "It rubs off on the other guys and they realize how much fun it really is. You have to enjoy it and don't shy away from it."
"He works really hard both on and off the court and that forces us to step our game up. He makes every player better," Tony Fiegen said, who has had some Callahan-like plays this season in taking key charges in games.
"We've got guys buying into defense and rebounding and we're just playing so much better on defense," he said.
There's proof behind that statement and as SDSU's best defender, Callahan is leading that charge. The Jackrabbits have shaved nearly six points per game off of their average allowed a year ago. An eight-win season now seems like a long time ago.
"Looking back, it's hard to believe that we only won that many games because we had good players and could have done better than that. Now, we're just soaking it all in and enjoying it and hoping we can take care of business," Callahan said.
"We just know at South Dakota State and the level we're at and the people we play, we need guys that are athletic and can shoot the ball and Griffan can do that for us," Nagy said. "We're definitely going to miss him."