Runner on the road to return after year in Iraq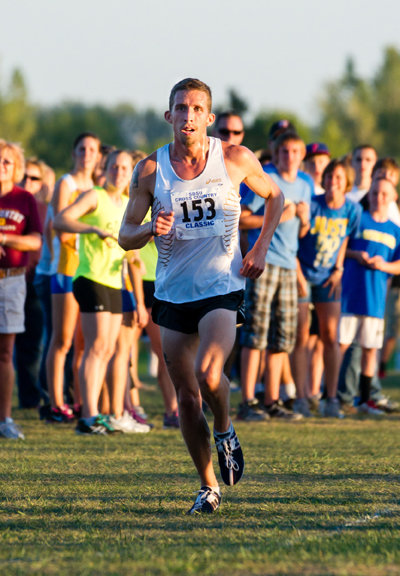 Top-tier athletes face many decisions.
Some are gifted enough to have to choose which sport they'll pursue. Some choose how to balance academics and athletics. And some are forced to give up their desire to serve their country in order to pursue their athletic dreams.
But some, like Anthony Bongard, choose to go after both.
Bongard is a senior cross country and track and field runner from Redwood Falls, Minn., but he's also a combat engineer with the Minnesota National Guard.
"Being paid in scholarship as a student athlete and then being in the military, they were pulling me in different directions," Bongard said. "(The National Guard) wanted me to just be focused on the service, (SDSU cross country head coach) Rod (DeHaven) wanted me to be focused on running, and at the same time both of them wanted me focusing on school."
The juggling act of three major priorities in his life made things tough at times, but Bongard found a way to persevere and become one of SDSU's best distance runners. His SDSU cross country career began in 2007, and he worked to adjust to the collegiate level of racing. He redshirted in 2008 due to military duties, but upon his return he helped the Jacks to consecutive Summit League Championships in men's cross country.
He was able to compete in both the indoor and outdoor track seasons in the 2010-2011 season, but shortly afterward he was deployed to Iraq. As one might expect, it can be challenging to find safe places to run in a war zone, which Bongard said only added to the difficulty of training.
"Being a specialist on the enlisted side, I'm at the bottom of the totem pole, so I have to listen to a lot of higher-ups and do that job, so it was really hard to train at first," Bongard said. "I started trying to train, but I just gave up until we were done with our mission."
Once his mission of moving equipment out of the country before the end of the year was complete, Bongard tried to get back in the swing of things. Since his base was relatively small, he tried to work more weight training instead of trying to reinvent ways to run the five-mile loop around the base in a different fashion. Even with all his creative routing efforts, Bongard was only able to total about 40 miles per week, a far cry from his stateside training regimen.
When Bongard returned from deployment, DeHaven admitted his training was a little behind schedule, but Bongard returned a much more appreciative athlete.
"He's definitely matured a lot since he came back, and I think he has a greater appreciation for the experience he has at college," DeHaven said. "I think anybody would if they spend 12 months in a tent in a sand desert. He's a good leader. He does the work, and he'll continue to do the work. He's training harder than he ever has before, but it's not just training for a couple weeks that gets you in shape, it's the culmination of years."
DeHaven said he'll have to redshirt this cross country season and compete unattached due to some academic issues the semester before he deployed, but Bongard, 23, is set to graduate in December 2013 with a mathematics degree with a emphasis in financial engineering. Right now, Bongard is working to regain some of the athletic glory he once achieved as a Jackrabbit.
"This season, I want to get my butt back in shape," Bongard said. "I've got a nice, hard workload this semester—17 credit hours—and being gone for a year and a half, I need to get back in a routine of doing homework before I even try to put competing on top of that. I figured that's my best bet to help me graduate and get me prepared for this spring."
Bongard also hopes to qualify for the USA Men and Women's Half Marathon Championships in June in Duluth, Minn. Some say such a race is a good test of an individual's physical and mental stamina.
Bongard has already proven he has plenty of both.