Brookings' Krogman to hold BOR's top spot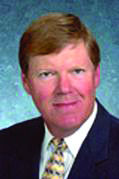 By Jordan Smith News Editor
April 24, 2013
A new president has been elected and has begun his term for the Board of Regents. Dean Krogman of Brookings has been selected to fill the presidential seat.
Each member of the BOR serves two 1-year terms at each of the leadership positions, and works their way up: two years as secretary, two as vice president and then moves to president. If the members do good work and are accepted by the rest of the regents, they move up in chairs. This is not an unusual practice for a board of regents, according to SDSU President David Chicoine. 
"I just started my term, as it always starts in March," Krogman said. "I took over after the last meeting."
Krogman has been on the BOR two times. He came back on board and was re-approved by Gov. Mike Rounds the second time, according to Senator Larry Tidemann. 
"Having Dean is beneficial to SDSU he brings good perception of how higher education needs to be," Tiedmann said.
Krogman is involved in many things outside of the BOR. His family is from Brookings and his sons own a real estate business in Brookings.
"I lobby representing healthcare and business in the legislature. I have three boys and the two oldest own Century 21 in Brookings, my wife is employed at 3M," Krogman said.
SDSU has always tried to make sure that regents from the Brookings area are informed about items on the agenda relative to the university. Representatives receive information before each board meeting and Krogman has been in on this system in the past.
"There is a high level of communication, and we appreciate that," Chicoine said. "We always try to make sure the regents are informed of what's going on at SDSU." 
Krogman said one of his goals is keeping tuition down while offering a quality education with fair prices.
"I am concerned about remedial courses and the retention aspect," Krogman said. "We graduate about 54 percent of those that start and it is not good enough."
According to Chicoine, the last BOR president, Karen Johnson, helped a lot when it came to reducing the confusion surrounding university funding. Krogman will pick up and continue to help SDSU develop student retention programs at SDSU and better communication between the university and the BOR. 
"It is valuable to have a chair from SDSU to bring the vision forward," Tidemann said.
"We have visited with him as a board member about financial needs; he also lobbies for a number of different segments."
There are a lot of positive feelings from many about Krogman's election.
"I enjoy working with Krogman," Tiedemann said. "I hope to work with him to develop a vision and move forward." 
Chicoine said Krogman's election is even more important to Brookings, because as an SDSU graduate and former Brookings County Legislator, he has a feel for the community and SDSU. 
"The president (Krogman) will have great leadership over the next couple of years and we can celebrate that," Chicoine said. 
Krogman is well aware of the economic developments and that students are needed to fill the labor force. There are periodic meetings in which the Board talks about things such as student life and what could be done to improve offerings for student life.
"I want to see the number of students that graduate grow," Krogman said.
A big part of Krogman's job is working with the legislature on funding which will start in early fall.
"With six institutions it is really hard to play one against the other. They are quite different in size, there are two big and four smaller institutions, which are different in offerings, but we are as fair as we can," Krogman said.