USD, SDSU engaged couple break down in-state rivalry
The Jackrabbits and Coyotes are set to clash Saturday, Nov. 18 on the football field at the University of South Dakota in Vermillion. But one couple proves the longtime rivalry might not be all it's hyped up to be.
Arianne Aasen, an elementary education graduate from USD, and Casson Dennison, a South Dakota State political science graduate, got engaged in April. The two met in the spring of 2016 after Dennison transferred to USD to attend law school while Aasen was in her junior year.
Dennison considers himself a "lifelong Jackrabbit, through and through," while Aasen said she still has "loyalties to USD." But the two said the difference in the teams they cheer for was never a conflict in their relationship.
"We always just saw each other as who we are and it's only really something that we tease each other about," Aasen said.
Dennison echoed her thoughts, saying the rivalry is meant for fun and in the spirit of competition.
"I think there's something flawed in hating the other school just because it's the other school. The schools are really different and they serve different objectives for students," Dennison said. "But I think the rivalry's for bragging rights and just makes the game atmosphere a lot better. It makes our teams better."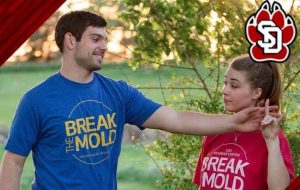 The two were introduced to each other at the St. Thomas More Newman Center on the USD campus in January 2016. They struck up a friendship at the Catholic community church and began dating that semester.
"We just kind of became instant friends, and we already had a mutual connection with God and the church," Aasen said. "So, when we started hanging out at the Newman Center, we started seeing each other a lot."
The couple had been dating for over a year when Aasen posted about their engagement on Facebook, where it was seen by Sami Zoss, an engagement coordinator for the University of South Dakota Foundation. Zoss knew Aasen through their shared sorority.
Zoss arranged to have two red T-shirts sent to the couple in their sizes. On the back of the T-shirts, Dennison's reads, "I love a Coyote," while Aasen's reads, "once a Coyote, always a Coyote."
Aasen posted about the T-shirts on Facebook, thanking the Alumni Association for the gifts.
"It was really thoughtful and it was definitely a surprise to get them in the mail," Aasen said. "It made me feel like they were still keeping in touch, even after I graduated."
Zoss said she was happy to learn the couple enjoyed the gift, saying it was "nice to poke fun at the rivalry" between the two schools.
"It's really important that our constituents know that we are there for them even after they graduate, especially when it's fun like this," Zoss said.
Zoss also said she is excited for Aasen's next steps in life.
"She just graduated and got engaged and she's going on to do great things with her organization, so she has a lot to look forward to in life," Zoss said.
Aasen currently works as a FOCUS missionary at the University of Nebraska-Lincoln. The couple often commutes to visit each other on weekends and breaks. The two plan to attend the rivalry game this weekend.
The couple said they'll be cheering for opposite teams, but still sit together.
"She'll probably wear USD gear, but I'll definitely be wearing my Jackrabbit gear," Dennison said. "But it'll be a great game to watch for sure."
The couple's wedding date is set for March 3, 2018.