Athlete Spotlight: Brayden Carlson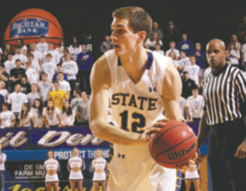 Robert Myers Sports Editor
March 5, 2014
Before rising to become the SDSU men's basketball's second leading scorer and leader in minutes, Brookings native Brayden Carlson enrolled and began his career with the humble status as a walk-on.
The senior point guard was recruited out of high school by both SDSU and Northern State, a Division II program in Aberdeen. As his high school career wound down, Carlson saw that his dream of playing Division I college basketball at SDSU was possible – with only one catch. 
"The coaches basically said they were out of scholarships for the year, but they said if you come this year we'll have a scholarship for you next year," Carlson said. 
Carlson decided to go to SDSU and redshirted during what he described as a difficult first year at SDSU.
"There were a lot of long nights, a lot of long days for me because I didn't feel like I fit in right away, but eventually as time went on I felt better about it," Carlson said.
He spent his first years playing in the backcourt with now Milwaukee Bucks' player, Nate Wolters, an experience Carlson has heard plenty of questions about. 
"A lot of people ask what it's like to play with him and be in his shadow but I don't really view it as that," Carlson said. "I'm just glad I got the chance to play with him and could learn from him and benefit from how good he was as a player and watch how good our team could be because of him." 
Carlson went on to say that they were similar players in that they were both bigger guards who shot well from outside and played similar type games. He did however comment that Wolters did those things better than he.
With Wolters, Carlson and the Jacks won back-to-back Summit League Tournaments in 2012 and 2013, the first of which still remains one of Carlson's fondest memories.
"On the bus ride back from our first Summit League Championship, I don't know what music it was, we celebrated the whole way back, the whole 45 minutes back from Sioux Falls to Brookings," Carlson said. "We had just beaten Western Illinois and guys like Griff [Griffan Callahan], who were normally pretty subdued, were celebrating pretty hard on the bus."
Carlson also enjoyed his experiences in the NCAA tournament, experiences against Baylor University in 2012 and University of Michigan in 2013.
"It was incredibly special going down to New Mexico and playing in 'The Pit,'" Carlson said. "It was full of history down there so that was special, but also playing in Michigan – tons of fans and tons of great players there so it was just special to be a part of."
Looking back, Carlson sees the Michigan game in which he scored 20 points as sort of a spring board that showed him what kind of player he could become and propelled him into his senior season. Then during the offseason, Carlson worked to prepare for the larger roll he would play this year.
"He [Wolters] really did a load of the scoring and a load of the leadership for us last year and I knew going into this year we'd be missing that," Carlson said. "So something I worked on all summer was trying to get as good as I could to be able to control the offense and be able to help scoring offensively."
During the first months of his senior season, disappointment followed the Jacks as they failed to live up to expectations and in late January, they found themselves at 10-10 overall with a 2-3 league record that was far from their goals of repeating as conference champions.  
"I think there was a level of desperation after we started off kind of poorly," Carlson said. "I think after winning two Summit Leagues in a row we thought we could just waltz into this senior season and we'd be fine, but halfway through we realized we weren't playing that well and guys had to start kicking each other in the butt to get us going."
The Jacks then slowly began to turn back in the winning direction and after a comeback victory on the road against the University of Denver in the final minute of play, the team continued their success on the road against USD.
"Beating USD down in Vermillion  – it took a great effort from our team. And then it was just extremely special for me to beat them down there."
Having won eight of their last nine since that time, the Jacks finished tied for second in league play and earned the No. 3 seed in the Summit League Tournament, allowing Carlson's dreams to drift back into plausible reality.
"My dream ending to the season is winning three games this weekend and, probably if it's a dream, beating NDSU in the Summit League Championship game," Carlson said. "We'd probably go to the NCAA tournament someplace warm. I think I heard there's one down in Florida where we could go if we won it [the Summit League Tournament] and then win some games in the NCAA tournament."
During his career at SDSU, Carlson has also excelled in the classroom, becoming the first SDSU player to be named a first team Academic All-American in 42 years.
"Something my parents have taught me all the years growing up is that your academics are just as important as your athletics and you just need to prioritize those accordingly," Carlson said. "I'm thankful that I've had great professors and great coaches that have pointed me in the right direction, academically."
An economics major, Carlson is currently interning at Capitaline, an investment firm in Brookings. Ultimately, he would like to end up working in finance, but before then, Carlson says he could see himself playing basketball overseas for a number of years.
Carlson's favorite thing about his experience at SDSU has been the people he has been around, both in the school and in the community. While at SDSU, two personal achievements stand out to him above the rest.
"I think that Academic All-American is really special to me just because it's been 42 years since anyone has won it and that means a lot to me," Carlson said. "But scoring 1,000 points is something I never, ever, ever thought I could do, especially here, so that means a lot to me too." 
During Saturday's Senior Night celebration, Carlson and fellow seniors Chad White, Jordan Dykstra and Marcus Heemstra were honored for their many contributions to the team. Head coach Scott Nagy had something to say for each of them. About Carlson Nagy said, "Brayden walked on five years ago and has been a Godsend to me."
Though Carlson noted they weren't close during his first years on campus, he said the two grew to lean on each other for a lot, and now Nagy, Carlson, and the rest of the SDSU players and coaches will go forward in a series of win-or-go-home games in the Summit League tournament and, if they can win that, the NCAA Tournament.