Offense ends defense's five-game win streak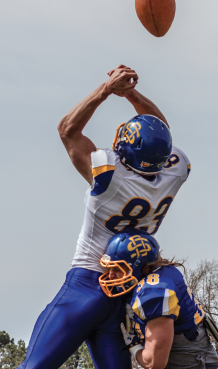 By JUSTIN HARNED Sportswriter
April 30, 2014
 A redshirt freshman from Prescott, Ariz., Brady Mengarelli stole the show, rushing the ball 14 times for 105 yards and three first-half touchdowns in SDSU's annual spring football game Saturday at Coughlin-Alumni Stadium. 
The game ended in an upset with the offense running away with a 58-49 victory over the defense, ending the five-game winning streak held by the Jacks' defense. 
"It was a lot of fun, the offensive line did a great job," Mengarelli said. "They made it easy for me to make the reads." 
Despite the scoring system used for spring football, the offense produced six touchdowns and two field goals. The defense created four turnovers and six three-and-outs. 
Snow thwarted last season's spring football game, but this year heavy winds played a role, making it tough to throw the ball for junior quarterback Tyler Finnes and redshirt freshman Dalton Douglas. 
Douglas totaled 43 rushing yards and Finnes passed for 127 yards, connecting with Jason Schneider for a 9-yard touchdown pass in the fourth quarter. Austin Sumner was held out of the game as he recovers from a shoulder injury. 
The offensive line – generating big holes for the running backs, won this contest. The Jackrabbits ran the ball better than they stopped it with the offense totaling 295 yards, without senior and captain running back Zach Zenner. He was held out of the game to prevent injury. The revamped offensive line flexed their depth despite losing All-American Bryan Witzmann. 
Junior running back Reggie Gandy gashed the Jackrabbit defense on a 34-yard touchdown run in the third quarter. Gandy ended the game with 74 yards on nine carries. Bridgeport Tusler got in on the action – responsible for the longest play with a 50-yard run. 
Senior wide receiver out of Lee's Summit Mo., Dom Wright doesn't know his role on the field next season but knows what he has to do. 
"Pretty much just be a leader," Wright said. "Whenever I am out there I just give it my all, I mean that's all I can do. I got great teammates beside me, so I depend on them and just have fun." 
SDSU's defense was led by safety Melvin Tavares who tallied 11 total tackles, including three for loss. Shayne Gottlob totaled eight tackles. Chris Balster, Nick Farina and T.J. Lally recorded interceptions. Jesse Bobbit recovered a forced fumble. 
Tavares touched on the defense's performance, noting one area the defensive line may need to improve on going forward into next season. 
"I think we're solid but we could still get a little more physical," Tavares said. "But other than that we just got to fill a couple holes after a couple seniors left." 
While the defensive line lacks depth, the wide receiving corps is filled top to bottom with depth. Wright who tallied up six catches for 44 yards expressed his excitement for the group next season. 
"Receivers are looking real good this year," Wright said. "We got big guys, small guys and fast guys. We also have some young guys stepping up and doing well and of course Jason Schneider is coming back which is our first team All-Conference receiver." 
The Jackrabbits will begin their journey to earn a third straight FCS playoff berth Aug. 30 at Missouri to kickoff the 2014 season.