Dunn's complete collection now on display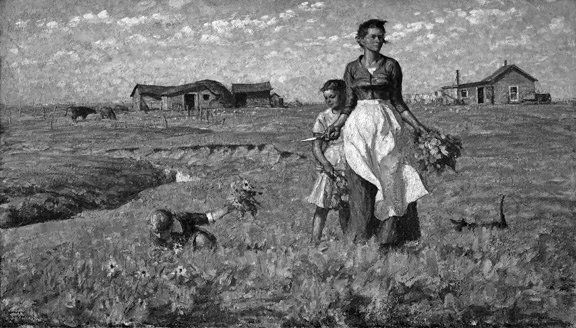 By VIRAJ PATEL
September 17, 2014
  The entire Harvey Dunn collection comprising of his sketches, illustrations, portraits and paintings is on display through Jan. 11 next year.
Born in a homestead near DeSmet, Dunn left the agricultural lifestyle for his education at South Dakota Agricultural College, now South Dakota State University, in 1901 and was urged by Industrial Arts instructor Ada Caldwell to go to the Art Institute of Chicago. After studying for two years at the institute, he was among a few students who were recruited by illustrator, Howard Pyle. Under his instruction, Dunn improved his skills and eventually opened his own studio in Leonia, N.J. In his list of achievements is his inclusion on the eight-member team of artist-correspondents for the American Expeditionary Force during World War I.
Even though he was away from home most of the time, Dunn never really lost the contact with his roots. "He used to visit his home state almost every summer from 1925 to 1950," said Jodi Lundgren, coordinator of exhibitions at the Art Museum. 
"The people in South Dakota knew that Dunn was a famous illustrator but many never saw his large prairie paintings as he didn't bring them with him," Lundgren said. "In 1950 a newspaperman from DeSmet, Audrey Sherwood, visited Harvey at his New Jersey studio and suggested he share his prairie paintings with the people of South Dakota. The outgrowth of that conversations was exhibit that was originally scheduled for three days but went on for 14 long weeks and Dunn made sure to be there every single day."
Overwhelmed by the response of the visiting public, Dunn drafted a letter gifting the 37 unsold pieces from the exhibition to the people of South Dakota naming SDSU as the custodian. The artworks used to hang salon style in the Pugsley Union.
"A student union doesn't provide the most controlled environment for artworks in terms of exposure to cigar smoke, too much light, shifts in humidity, etc. When folks were in search of a place to build the state art museum the presence of the Dunns here were a major influence on the decision to build the South Dakota Art Museum on the SDSU campus," Lundgren said.
"I believe it is important for the growth of a student to know about the works of a phenomenal artist like Dunn. Furthermore a collection of this large volume helps students see the evolution of an artist," said Molly Wicks, instructor of visual arts. 
"It's the affability and respect for Harvey Dunn among the people that has helped us gather this collection," said Lundgren. "Our team has worked with collectors, auction houses and Dunn enthusiasts to acquire about 62 additional pieces over the span of 44 years that takes the tally to 118 artworks and we still continue our efforts to add to our collections."
From the portraits of famous people to the geographically accurate landscape paintings and from the silence and serenity of farmlands to the chaos of World War I, Dunn has immortalized everything in his artworks.