The regular season for the South Dakota State men's basketball team is finally here. The Jacks host the University of California Irvine Anteaters Nov. 10.
The Jacks defeated the South Dakota School of Mines and Technology Hardrockers 78-65 in their Nov. 2 exhibition game. They were heavily favored in the game because SDSMT is a Division II program, but SDSU struggled in the first half and trailed 35-33 at halftime.
"For our team to be at our best we need to share the basketball," said head coach T.J. Otzelberger. "We need to make sure we value every possession and early in the game I don't think we did a great job of getting everyone involved."
The Anteaters won their only exhibition game of the season 73-66 against Alaska Anchorage. Last year, UC Irvine went 21-15 overall and were the Big West regular season champions. They lost in the Big West Tournament championship 50-47 to University of California Davis and fell to Illinois State 85-71 in the first round of the National Invitational Tournament.
"They're a really good team," Otzelberger said. "I think if you look historically over the last five years, they've won their conference and have won 20 games."
Two of the Anteaters 21 wins last season came against the Jacks. They beat SDSU 73-58 in the second game of the season and then beat the Jacks 63-52 at the Pentagon in Sioux Falls over Thanksgiving weekend.
"They're a physical team and their greatest strength is their ability to rebound the basketball offensively … we saw that last year playing against them and they're a team that's super aggressive," Otzelberger said. "So we're going to have to not only match that but one-up that intensity on the defensive end and on the boards."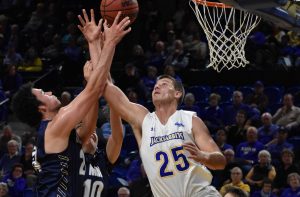 The Jacks were led by Preseason Summit League Player of the Year Mike Daum against the Hardrockers. Daum finished with 21 points and 11 rebounds.
Freshman guard David Jenkins Jr. had 16 points on 6-10 shooting in his first game as a Jackrabbit.
"We have a lot of confidence in David and his ability to score the basketball. He's a tremendous offensive player, so we want him to be aggressive when he's out there and hunting for his shot," Otzelberger said.
The Anteaters lost their top-three scorers from last season, so there are new faces in their starting lineup. Junior forward Jonathan Galloway started all 36 games for UC Irvine last season and redshirt sophomore guard Max Hazzard started 18 games.
The Anteaters were led by sophomore guard Eyassu Worku and sophomore forward Tommy Rutherford against Alaska Anchorage. They had 12 and 18 points, respectively. Galloway had 17 total rebounds in the win.
"Worku is a guy who played 20 minutes a game last year and now starts at point guard for them," Otzelberger said. "Their frontline guys are similar to the guys that they had last year. Tommy Rutherford can score with his back to the basket. He had five offensive rebounds in their exhibition game."
Tip-off between the Jacks and Anteaters is set for 8:15 p.m. Nov. 10 in Frost Arena. They will play their second regular season game against the University of Mary at 2 p.m. Nov. 12 in Frost Arena.