April Brooks leaves legacy at SDSU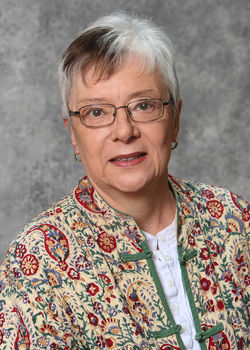 Distinguished SDSU educator, leader and friend to many, April Brooks passed away Tuesday April 14 following a battle with cancer. Brooks worked at South Dakota State University for just over 21 years, up until the time of her death.


Brooks started at South Dakota State University in 1993 as an assistant professor of history eventually serving as the head of the department of the Department of History and Political Science. Brooks was active in a number of many organizations at SDSU. She taught her final course in the fall of 2014.


Former SDSU students, like Ari Boynton, who took courses with Brooks, remember her as an honest and influential professor. Boynton was a history major, and graduated in 2010. Brooks worked as an adviser and professor to Boynton in his time at SDSU.
"One thing you could count on with Dr. Brooks is honesty…she was passionate about the things that she taught…you knew that she cared about her students and she was deep in the game," Boynton said.
Former student Jack Thompson said once you got to know her, Brooks was a "real sweetheart" who would "do anything" for her students.
"She was always there to talk about stuff outside of academic life and gave an honest opinion and sometimes told you to just get off your duff and do it and I don't think enough professors do that specific thing…  she was a real neat lady and she's going to be missed," Thompson said.
According to Dennis Papini, dean of the College of Arts and Sciences, Brooks passed away surrounded by close friends and colleagues.
"The genuine warmth and affection of April's departmental colleagues was a source of strength for her as she approached the end of her life, and it was moving and inspiring to observe the care and compassion that April and her faculty friends shared for one another.  This mutual regard says much about all of the individuals who collectively set the emotional tone and climate of the College and the University," Papini said.
Mary Arnold, head of the Department of Journalism and Mass Communication was both a friend and colleague of Brooks.
"April Brooks was a great friend and a great teacher," Arnold said. "She really made a difference in so many lives over the years.  Too many to count.  We will miss her quick wit and her famous one-line zingers.  The College of Arts & Sciences won't be the same place
without her."
Brooks helped students through classes to their degrees, and was influential to her students, according to former student Brian Flynn.


"Dr. Brooks was instrumental in helping me get my undergrad degree from SDSU. I took a break for five years between times there and when I decided to come back, she was my adviser luckily, she would email me back within 20 minutes of asking her questions … she was hugely influential," Flynn said.
As a professor in the classroom, Brooks challenged her students, Joshua Uecker said.
"She was probably one of the best professors I had up at SDSU. She always made sure to challenge her students but at the same time if you were having trouble she was always willing to take the extra time with you to help you through the class," Uecker said.
According to Thompson, there are many nice things that could be said of Brooks.
"It's nice to say all of these nice things after she's gone, but this article won't be enough, she was a pretty good lady," Thompson said.
April Brooks' obituary reads as follows:
After a battle with cancer, Dr. April Brooks passed away on April 14th, 2015, at the United Living Community in Brookings, SD. Funeral services will be 10:30 a.m. Friday, April 17, 2015, at St. Paul's Episcopal Church in Brookings. Visitations will be 5-7 p.m. on Thursday at Eidsness Funeral Home.
April Ahlers Brooks was born on April 2, 1944 in Mineola, New York, the daughter of Martin Frederick Ahlers and Blanche Caroline Chase. She had one older sister, Joyce Caroline Chase. As a child, she lived near the Franklin and Eleanor Roosevelt home in Hyde Park. April sold Girl Scout cookies to Eleanor and Eleanor sometimes stopped to buy lemonade at April and Joyce's lemonade stand. April attended the New Hyde Park Memorial High School and then Hunter College, where she majored in history and anthropology, graduating in 1966. She received a full scholarship to attend Tulane University in New Orleans, where she received her M.A. (1968) and Ph.D. (1974) degrees in History. Her favorite memory of New Orleans was living in the Garden District while she taught at a local community college. She married Thomas Brooks in 1980 and moved to Houston, TX, where her son Sean was born in 1982.
In 1993, April accepted a position as an assistant professor of History at South Dakota State University in Brookings, where she earned tenure and promotions to associate and full professor of history. From 2001-2009, she also served as Coordinator of Women's Studies, where she was responsible for curriculum and chairing the Women's Studies Advisory Committee. She instituted the annual Women of Distinction Awards to recognize women leaders at SDSU. She was honored by her peers with this award herself in 2011. From 2008-2014, she was Head of the newly formed Department of History, Political Science, Philosophy and Religion, where she was instrumental in guiding new faculty, reshaping the curriculum, and mentoring countless students. A consummate teacher, her friends liked to tease her that they could not go anywhere with her in South Dakota without former students coming up and telling her how she had impacted their lives. For several years, she was a reader for Advanced Placement Tests in English History. She taught her final class in English Renaissance History, her specialty, in Fall semester of 2014. At the time of her death, she was Assistant to the Dean for Experiential Learning. She was also a member of Master Gardeners and St. Paul's Episcopal Church, where she was a lay minister.
An insatiable scholar and traveler, she received Fulbright-Hayes awards to travel and study in India and the Netherlands. She also received a Fulbright to study at the University of Edinburgh in Scotland. Twice she was awarded an SDSU grant to study at the University of Oxford, England and has conducted research at the British Library in London. She attended an academic seminar in Istanbul, Turkey in 2013. She participated in SDSU faculty exchanges at sister institutions in England, Scotland, Egypt, China, and South Korea.
April is survived by her son Sean and his family, of Chicago.