Breaking down the details of repayment
Being laden with thousands of dollars in student loans is a reality for many of today's college students. While most often necessary, student loans can be extremely confusing and downright frightening. 
According to an article from COLLEGEdata, a "moderate" college budget for an in-state public college for the 2016-2017 school year costs around $24,610. South Dakota State University's average yearly tuition cost is lower at $16,570. The average yearly tuition cost at a private college can often be twice that of a state college. This is before factoring in the cost of living, which can add thousands in extra expenses. 
This, by no means, is to suggest you give up hope and resign yourself to bankruptcy. It just means you need to be smart about taking out student loans.   
The first thing you need to know is the difference between federal direct subsidized loans and federal direct unsubsidized loans.
These are two terms many people are unclear on and can cause major headaches down the road if the "wrong" loan is chosen.
Jacob Gelderman is a junior agronomy major at SDSU.
"I had no idea there was more than one kind of student loan at all," Gelderman said. 
According to the Federal Student Aid loan information web page, federal direct subsidized loans have interest paid for by the U.S. Department of Education if you are in school at least part-time and are deferred for six months after you graduate.
In contrast, federal direct unsubsidized loans require the student pay interest on the loan the minute it is taken out. If the loan payment is deferred after graduation, the interest will accumulate and will be added to the total amount of the loan. In short, unless you absolutely need to, it is best to not take out any federal direct unsubsidized loans. 
While the interest rate for both subsidized and unsubsidized loans is fairly low at 4.45 percent, that interest will add up. The interest rates and terms and conditions on private loans (those through banks, credit unions and lenders like Sallie Mae) are a whole different discussion. In general, private interest rates are significantly higher and they may not even have an option to defer payment. Use extreme caution when considering taking out a loan from any private company. Reading the fine print is imperative. 
Junior agricultural business major Riley Mullaney said he assumed he should start paying back his student loans as soon as he finds a job after graduation.
The best time to start repaying loans is as soon as you are financially able to. As stated before, if you took out only subsidized loans, you will have a six-month grace period after graduation to start making your payments. During this time, you may want to research the different loan payment plans available.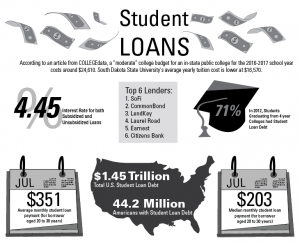 According to an article on Debt.org, the default payment plan is a 10-year window to pay off all loans. The amount you pay depends on your discretionary income, the amount of the loan you owe and its interest rate. The payment window can be extended to up to 25 years, but it is best to pay the most you can to shorten the payback time and the interest accrued. 
Bruce Johnson, an economics professor and student loan expert at SDSU, said "one of the biggest financial mistakes" students make after graduation is choosing the standard repayment option.
"The standard repayment option requires them to repay the loan within 10 years," Johnson said. "In that situation,
Finaid.org suggests the borrower needs to earn more than $55,000 a year to prevent that payment from causing them financial difficulty. Most students are unable to earn this immediately after graduation."
He suggests choosing the extended option, which extends the repayment term to 25 years, lowering the monthly payment amount to a more manageable level.
"It keeps the monthly payment to less than 10 percent of the student's gross monthly income," Johnson said.
If you have a profession in the public service sector, especially in education, you may qualify for loan forgiveness. This means that after paying on your loan balance for so many years (usually without missing a payment), your balance could be forgiven. This period is usually around 10-15 years.   
Taking out student loans is an unfortunate necessity for most students, but with a little forethought and planning, your prospects of financial solvency can be greatly improved.