SDSU staff remember Jodi Friedel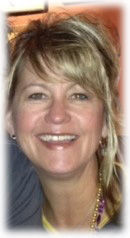 MAKENZIE HUBER Managing Editor
August 31, 2016
Jodi Friedel always had a smile on her face. She was fun and sunny, energetic and creative.
That's how people at South Dakota State will remember her.
"I never saw her come into the space with anything but positivity and professionalism. This is just a tremendous loss to all of us to have her pass away," said Jen Novotny, executive director of The Union.
Friedel passed away Aug. 25, 2016. She was an apparel buyer for the SDSU Bookstore for the past 11 years. Her funeral was Tuesday, Aug. 30 in Brookings.
Amber Healy, assistant director of the SDSU University Bookstore will remember Friedel for her personality and the impression she left on students she worked with.
"When she was designing clothes for students you could feel the love and passion she had for her job and everything she did in the store," Healy said.
Her energy and personality made it hard not to like her.
"Basically she was just an amazing person," Healy said.
Novotny remembered simple interactions that reminded her of what she admired about Friedel.
"We would catch each other in the hallways, and I would tell her how great everything looked," Novotny said about Friedel's work in the store. What Novotny remembered the best was that Friedel always had smile on her face.
Friedel's friends and family, as well as her co-workers and student staff at the bookstore, were on Novotny's mind as well.
"Words cannot express my heartache for them — and I know that Jodi touched many of our lives in ways that sadly she perhaps did not know," Novotny said. "She will be remembered dearly —  and missed deeply."