Common Read as a common need: students give perspectives
Every freshman at South Dakota State University has the opportunity to engage in the Common Read in their first-year seminar class. This opportunity allows freshmen and community members to partake in conversation about a current topic in today's society.
Since the introduction of the Common Read program at SDSU in 2009, the idea has grown into educational and engaging events shedding light on diverse topics.
This year's selection was "How Does it Feel to Be a Problem?" by Moustafa Bayoumi. The book looks at the seven main character's lives and struggles as 20-something Arab-American men and women living in New York City.
Bayoumi will speak for the final event of this year's Common Read series at 7 p.m. Thursday, Nov. 2 at the 2017 Griffith Honors Forum Lecture in the Larson Memorial Concert Hall of the Performing Arts Center. Free tickets are still available online.
Dawson Anderson, a freshman pre-pharmacy major, said he enjoyed watching the movie, "The Visitor" at a Common Read event Sept. 8 in the Rotunda.
"The movie was about this elderly professor who was going to his old apartment in New York to find two struggling immigrants living there," Anderson said. "I love the storyline of the movie and it showed me how important it is to connect with people of all backgrounds."
Ethan Reetz, a freshman exercise science major, said he learned a lot at the religious pluralism event at the Brookings City-County Government Building.
"It really opened my eyes to different perspectives and beliefs that are out there," Reetz said. "It taught me that it is our job to learn about each other's backgrounds and coexist in a peaceful way."
Emma Smith, a freshman pre-pharmacy major, said she found exposure to international issues interesting.
"I loved getting to see other people's perspectives from other cultures," Smith said. "Growing up in the Midwest, I haven't had a lot of experience with the problems discussed in the book and seeing perspectives of people my age go through this was a real eye-opener."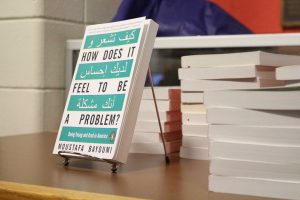 Nate Bergman, a freshman natural resource law enforcement major, said Sami's role in the military after the 9/11 attacks was the most important part of the book to him.
"I saw there was an internal conflict for him as an Arab fighting against his home countries and also protecting his own country and doing the right thing," Bergman said. "It was interesting to see the viewpoints of both sides of that fight."
Anderson said he learned to not spread hate, especially to people or groups of people we don't know.
"We, as a society, should not stereotype a group of people for any reason," Anderson said.  "We should get to know them on a personal level while learning their story and seeing issues through their eyes."
Smith learned she would like to be more open with people of different cultures and backgrounds.
"I do not want anyone to think anything badly about someone without truly knowing where they're coming from," Smith said. "Everyone has gone through something and, whether you are able to see it or not, they still have something that they're dealing with. I think it's good to give everyone the benefit of the doubt and treat everyone with respect, no matter what they look like or what they believe in."
Bergman said the Common Read reinforced the idea to not judge a book by its cover, something he learned growing up in Wichita, Kansas, where there is a large Spanish influence.
"Since I have come to SDSU, I have met so many different people from so many different backgrounds and everyone has their own beliefs," Bergman said. "I think we should get to know those people and begin to understand their culture and point of view."
Reetz, who is from Milford, Iowa, said Common Read events helped him get involved with other freshmen. Since he isn't from the area, he believes it was an important process.
"For all students new to this area, coming to different events teach us more about diversity and how we can all come together," Reetz said. "These events have been very beneficial for me in learning about other cultures and I have made a lot of new friends along the way."
Bergman said the community involvement with the university also plays a special role in the Common Read and the conversations it brings.