'That winning feeling:' Jacks plan return to NCAA Tournament
The Jackrabbit Women's Basketball team plans a return to the top of the Summit League coming into the 2017-18 season.
Despite a heartbreaking overtime loss against IUPUI in the Summit League Tournament semifinals last season, the Jacks are ranked No. 1 in the conference's preseason poll. Head coach Aaron Johnston's team has won seven of the last nine Summit League tournaments.
"A lot of us know the feeling of winning the Summit League championship game and a lot of us have a feeling of losing, so it is a big motivating factor in wanting to have that winning feeling again and get back to the NCAA tournament," said junior guard Madi Guebert.
The Jacks return their two top scorers from last year's team in Guebert, who averaged 15.3 points per game, and senior forward Ellie Thompson, who put up 13.5 points per game.
Also making a return is redshirt junior Macy Miller. Before tearing her ACL early last season, Miller averaged nearly 15 points per game.
"Ellie and Madi really had to carry a load for us last year when Macy got hurt," Johnston said. "They had to step up and make a lot of plays both offensively and defensively as leaders. They return all that experience. Now they have to reconnect with the new faces we have and make sure everyone understands their role."
In addition to the players coming back from last year's team, the Jacks have several new faces on the roster including transfers Chynna Stevens, Tagyn Larson and Rylie Cascio Jensen.
Stevens was a member of the program from 2013-2015 before transferring to the University of San Diego. After transferring back and sitting out a year due to NCAA transfer rules, she is back with the Jacks for the 2017-18 season.
Both Larson and Cascio Jensen spent their freshmen seasons at Big Ten schools. Larson transferred to SDSU from the University of Iowa, but, like Stevens, was forced to sit out last season due to transfer rules.
Cascio Jensen played her first season at the University of Nebraska-Lincoln before coming to SDSU. She will be eligible to play this season.
Johnston is pleased with how the new faces have fit in with the team.
"So far our new players have done a nice job of connecting and it has been fun to see them grow and spend more time with their teammates and to also feel ingrained at SDSU," he said. "They all bring different skills on the court. They fit in well with our offense. We feel comfortable with where all of those things are at so far. "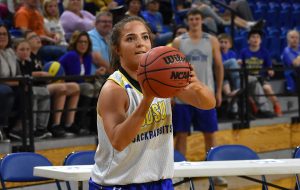 SDSU will have three freshmen this year. Forward Myah Selland from Letcher, guard Lindsey Theunick from Mankato, Minnesota and guard Tylee Irwin from Wahpeton, North Dakota.
Miller said she thinks the freshmen have done a nice job adjusting to college play.
"We all know how overwhelming it is as freshmen since you have to learn so much, but so far they have done a good job," Miller said.
Johnston, who is ready to start his 18th year as the Jacks' head coach, said the team's depth and athleticism is a strength and is what will define them early on.
If the Jackrabbits want to return to the top of the league, it won't be easy. Behind the Jacks in the Summit League preseason poll are defending tournament champions Western Illinois and in-state rival University of South Dakota.
They will also have Oklahoma and Louisville come to Frost Arena in the non-conference part of their schedule. Both teams were ranked in the Top 25 Coaches Poll at the end of last season.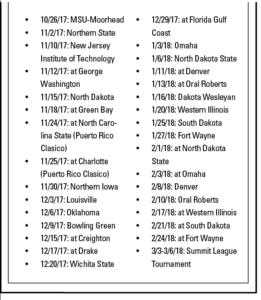 The Jacks will take the court for the first time Thursday when they host Minnesota State Moorhead in an exhibition matchup at Frost Arena.
Johnston said he is looking forward to the exhibition games.
"The two games are a great way to see where we are at as a team and what we've been working on for the last several weeks," Johnston said. "We'll toy with some different lineups and put in some different players together to see how that goes. We'll also get some experience in front of fans in a game-like atmosphere with real officials calling real fouls. It's a great way to prepare for what we'll face coming up."
The regular season will tip-off when they play host to the New Jersey Institute of Technology Nov. 10.
Guebert thinks the first few weeks of the season are very important.
"It's really about how we are going to set the tone for the rest of the season," Guebert said. "We really have to come out with lots of energy and intensity and aggressiveness."