Robertson shares his 'fantastic stories' in photo gallery
Wren Murphy, Diversity and Inclusion Reporter
February 6, 2019
When Frank Robertson was a child who had just moved to Brookings, he was awed by the size of South Dakota State's campus and Briggs Library. Now, his photos are hanging on its walls.
Briggs Library held a reception for the journalism instructor's "Bearing Witness to Community" photo gallery from 4 to 6 p.m. Feb. 6. It was originally scheduled for Jan. 29 last week but was canceled because of the polar vortex. Robertson has been working in journalism for about 20 years.
Robertson later attended SDSU. Though he was originally torn between electrical engineering and art, he moved to mass communication to pursue graphic design in advertising. His first photography class was with Frank Klock, and he "fell in love" with photography and, later, photojournalism.
"He saw something in me and encouraged me," Robertson said.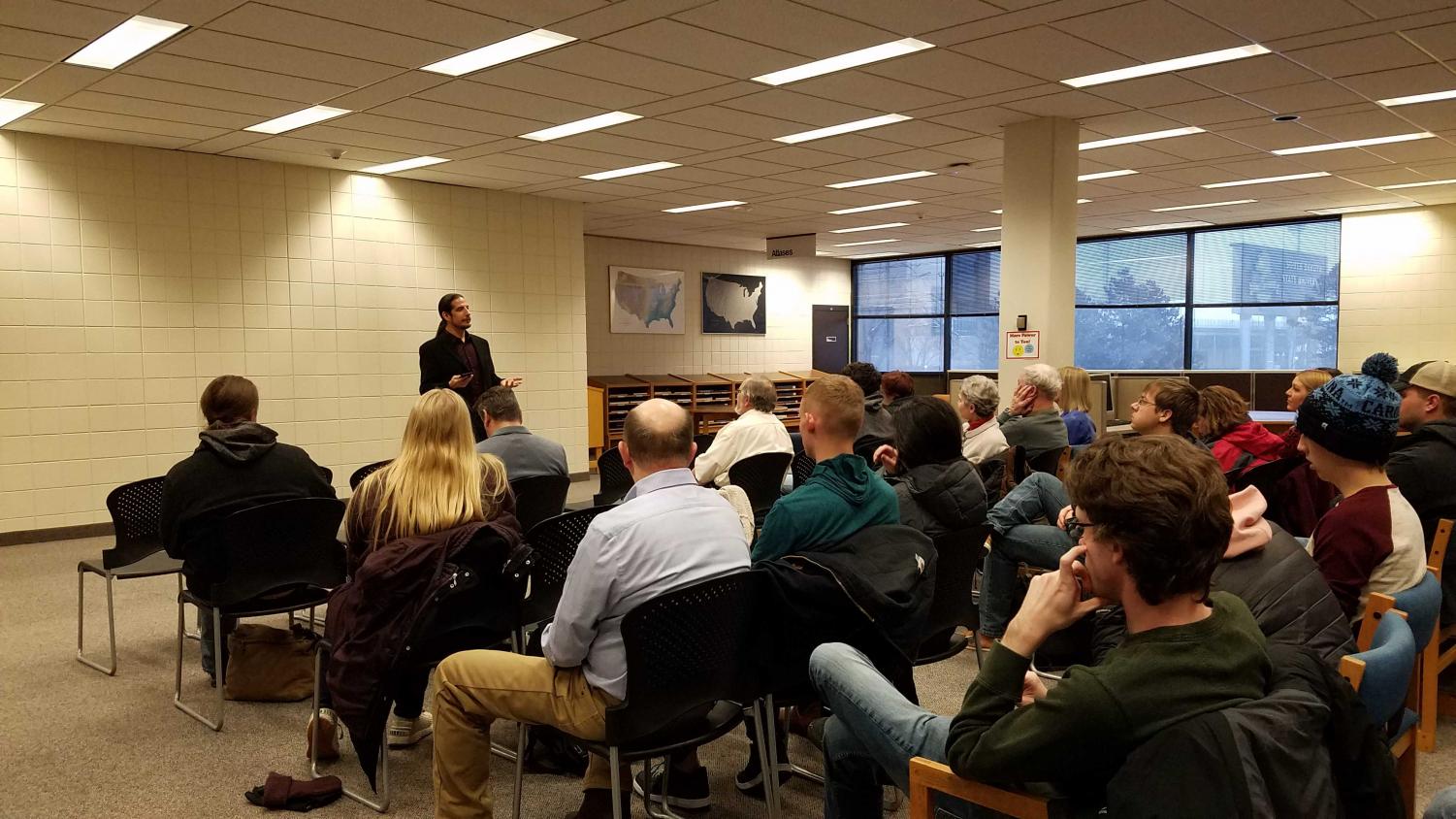 Klock later became a mentor figure for Robertson. Other people Robertson named as mentors include Dick Carlson from Aberdeen American News and photo editor Lloyd Cunningham from the Argus Leader. A few years ago, Robertson went on a "Thank You Tour" to talk to his old mentors and thank them.
"I encourage younger students, as you meet mentors, to keep those connections," Robertson said. "Those relationships are just as important for them as they are for you."
After graduating with a bachelor's in journalism from SDSU, Robertson has worked at the Aberdeen American News, the Argus Leader and the Chillicothe Gazette in Ohio. He also earned his master's from SDSU and started teaching at SDSU in fall 2017. In 2014, he was recognized as a distinguished alumnus by the School of Communication and Journalism.
"His mom would have been so proud to see him so involved at SDSU," said Amanda Short, Robertson's niece.
Velva-lu Spencer, Robertson's mother, worked as SDSU's Native American adviser from 1998 to 2003, and Spencer Hall in Jackrabbit Village bears her name.
"My mom, through her experiences and the way she lived, brought me to where I am today," Robertson said. "She taught me integrity and respect."
Diane Spencer, Robertson's aunt, wants to see him "pass on his knowledge" to his students.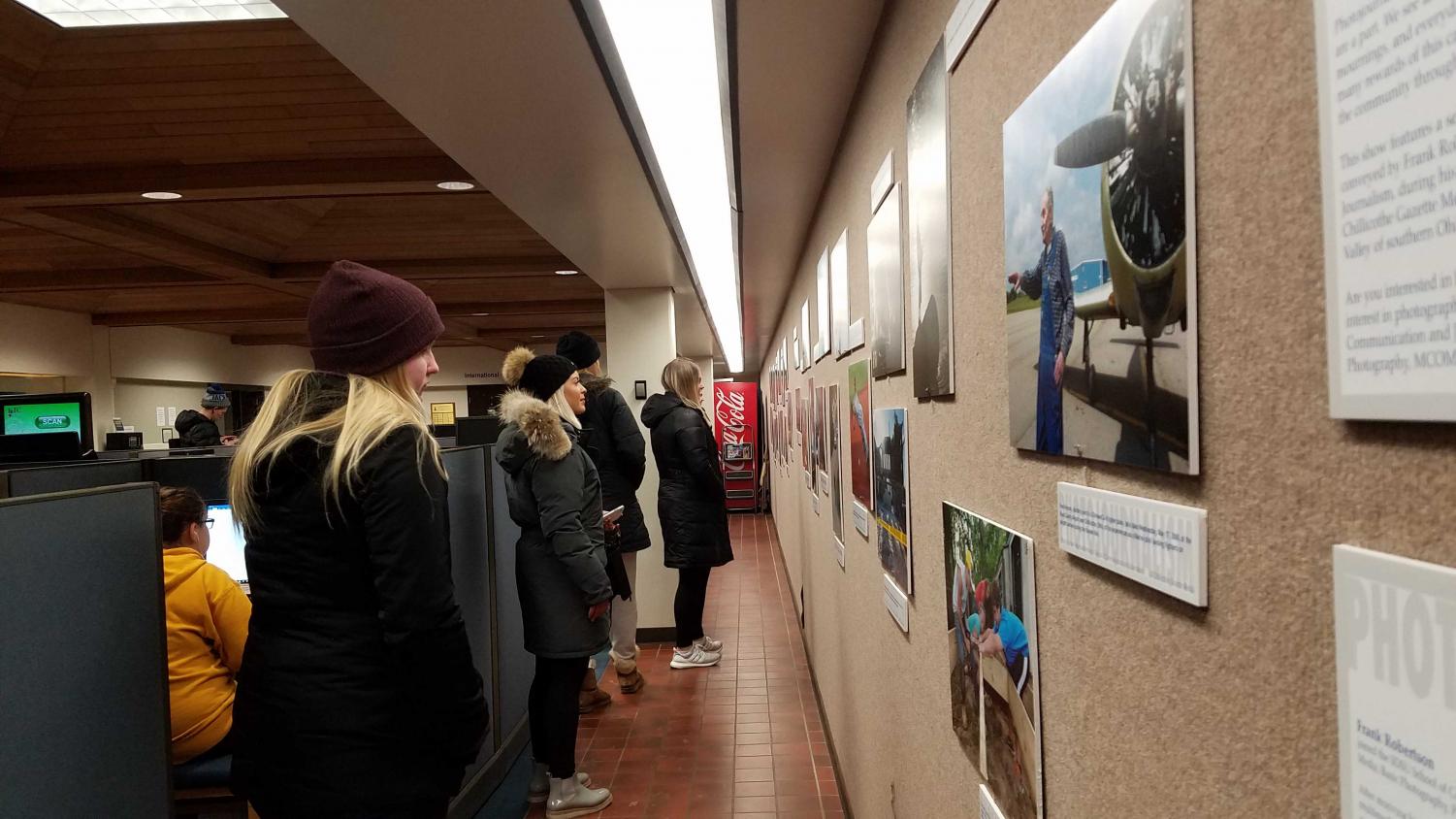 In his photography classes, Robertson teaches students how to operate the manual mode on a camera, compose a photo and how to be ethical as a photojournalist.
Robertson teaches students to avoid removing or adding anything to photos and instead encourages cropping and light color correction in the editing process.
"Electronically editing [photos] is perfectly acceptable as long as you keep the reality of the photo," Robertson said.
He also tries to "create an environment for creative juices to flow" by recreating the feel of a dark room when students are editing photos. He turns off the lights so students can see their computer screens better and turns on music and a colorful screensaver.
"[A dark room] is your own secluded space," Robertson said. "It can be hard to recreate that."
Jacqueline Boots, a freshman theatre major, attended the event for class credit and because she liked photography. Boots thought the event was educational and that Robertson "gives off an honest appeal."
"After today, I'm considering taking a photography class," Boots said.
Throughout his many years as a photojournalist, Robertson thinks that the importance of community is the greatest lesson he learned.
"In my career, I have photographed numerous presidents and rock stars and concerts," Robertson said. "But the people and assignments that have influenced me the most are the regular people. Those are the stories that have meant the most to me."
Robertson does not regret that path he has taken in his life, from a boy overwhelmed by SDSU's campus to a professional photojournalist, a distinguished alumnus, an instructor and presenter of his own photo gallery at Briggs Library.
"We all have these fantastic stories," Robertson said. "We just have to ask for them."