Still looking for the perfect Halloween costume? Party Depot in downtown Brookings sells several thousand costumes every year, according to owner Cheryl Meyer.
Party Depot has been in business for 17 years, 10 of which have been at the current 14,000 square foot location at 410 Main Ave.
Meyer said the store has three main focuses: wedding rentals, costumes, and party decorations and paper goods.
While October is the biggest month for costume sales, Meyer said they sell them year-round for theme parties.
"It's amazing, almost weekly there's some reason someone needs some part of a costume," Meyer said.
Party Depot doesn't supply costumes alone. They have a large selection of accessories, wigs and makeup to take costumes to the next level. Meyer said a lot of people make their own costumes or only need one thing to finish off a costume.
One of the more popular accessories they sell are fake wounds, which Meyer said can easily and realistically blend into skin.
Fall is a big season for Party Depot. Between Halloween, meetings and events for organizations, and back-to-school parties, they see a lot of customers. They also sell paper goods and table decorations for Thanksgiving and Christmas, as well as supplies for New Year's Eve parties.
Winter, especially November through March, is what Meyer described as "blizzard season," which means most people don't have parties in the cold, dreary weather. The staff spends the slower blizzard season researching and ordering new products and cleaning the store. When the weather warms up, people have more parties.
"When we all decide it's getting close to the end of blizzard season, we start having events," Meyer said.
Spring is a big season for events hosted by organizations, churches and fundraisers, plus graduation parties. Summer is primarily weddings.
Party Depot rents out linens, backdrops and decorations for weddings, as well as cocktail tables, linens and chairs for other events.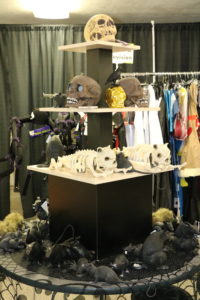 The store offers decorations and paper goods for all kinds of parties, including birthdays, bachelorette parties and baby showers. Meyer prides herself in the selection of balloons available at Party Depot.
"We've been producing balloons a long time, so we feel like we're quite professional at a good balloon bouquet," Meyer said.
They sell a lot of 40-inch number-shaped balloons, which are popular among college students celebrating 21st birthdays. There are four colors available.
There are two party stores in Sioux Falls with similar selections, but Party Depot is one of the primary stores in the area for party supplies. Meyer said she has a lot of customers from Aberdeen, Watertown, Minnesota and towns to the west of Brookings, but she doesn't see as many Brookings residents as she wishes.
"I think there are a lot of people in town who don't remember that we exist, don't know that we exist," Meyer said.
Because Party Depot is locally owned, the store carries a wider variety of what Meyer thinks customers will value most, like different colors of paper goods and more specific decorations and costume accessories.
SDSU students who bring an ID can receive 10 percent off a purchase. Meyer said some costumes have already sold out, so people still in need of a costume should check out the selection soon.