Bullet journals: the newest craze in organization
You're trying to do homework, but you can't remember when another assignment is due. You need to remember to take your laundry out of the dryer, you can't be late for work and — weren't you supposed to meet with your adviser yesterday?
If this sounds like your life, you might want to consider the newest organization fad: bullet journals.
The bullet journal was created by New York digital product designer Ryder Carroll. The main concept is to combine to-do lists, planners, notes and other thoughts into one space.
Bullet journals can be laid out to have monthly, weekly and daily planners, plus notes or projects. Many bullet journal users implement habit trackers, which document tasks completed each day, such as drinking enough water, not spending money, or hours of work or sleep.
"Rapid logging," or making lists of tasks, events, goals, thoughts and notes, is the main premise of bullet journals, according to the creator. A basic key is used to organize the points within the rapid log that uses bullets, crosses and dashes.
"It's so simple, it's stupid. It's so simple, it's brilliant, too," Amy Schellenbaum wrote in a 2016 article for Popular Science.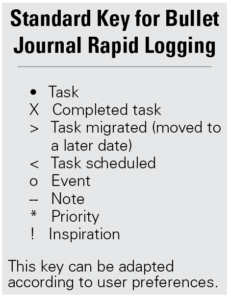 Cory Ann Ellis, a marketing and photography professional in Brookings, described some bullet journal users as a "cult following," but said she uses one in her own personal way.
"That's the perk of it being so versatile — you can make it whatever you want," Ellis said.
Most journals made for bullet journaling come with grid paper, or paper with very small dots that work similarly to a grid. However, anyone with a notebook and a pen or pencil can bullet journal.
"I think that people find the dots and the grids are more apt to creativity versus lines," Ellis said. "Because with the lines, I think people are afraid to go outside of the lines, you know, you have to write on your line."
She prefers the Leuchtturm notebook because it comes with dots, page numbers and an index, but some people prefer other types of notebooks, such as Hobonichi. Ellis recommends fountain pens, but any pen will do the job. Some users prefer colorful ink or colored pencils to use their bullet journals as a creative outlet.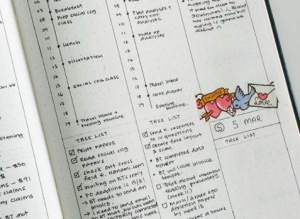 Ellis began bullet journaling in March 2016 and said it took her about six months to find the design and style that worked best for her lifestyle.
Compared to a standard planner that's already designed with a day or week per page, bullet journals can also save space.
"The perk of this is that you basically just start your next day when you're ready to start your next day. So a day could take up a little bit of space, or a day can take up three pages," Ellis said.
Although bullet journaling can seem intimidating to some at first glance, including Ellis, the main reasons bullet journals are so popular are the efficiency, organization and creativity they can bring to a user's life.