Awareness through exposure: Student project notes campus accessibility shortcomings
Find something you are passionate about and use your strengths to carry out a task related to it.
When Abby Donkers got this as her assignment for her Leadership in Action class, she knew exactly what she wanted to do: raise awareness about accessibility for future architects.
Donkers, a senior agriculture leadership major, uses a wheelchair. She decided her project would be to have architecture students at South Dakota State University use a wheelchair on campus for a day to see what it's like.
"I would just like them to go around campus and find ADA (Americans with Disabilities Act) flaws and just experience the struggle, which sounds kind of mean," Donkers said before her project.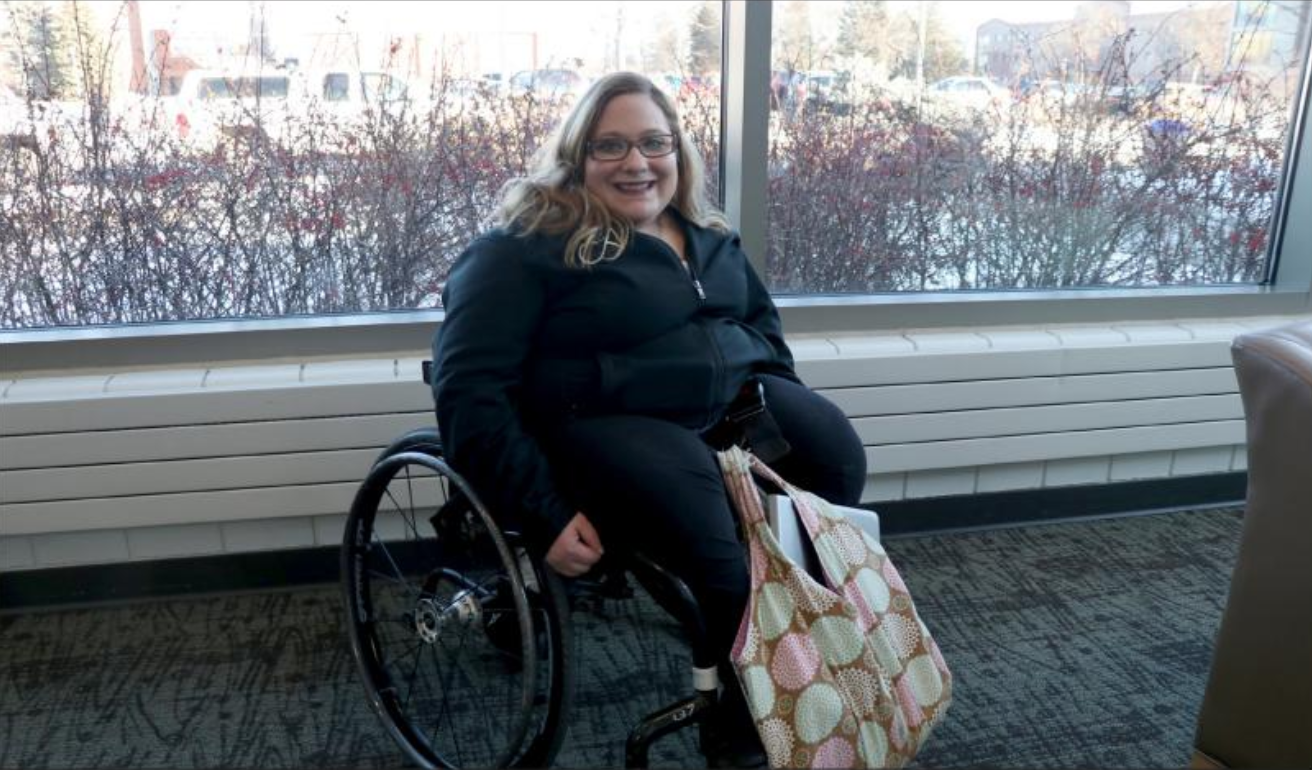 The main goal of this project, Donkers said, was to open students' eyes to creating accessible spaces, and to understand what is and isn't convenient for disabled people to access.
The ADA is a federal regulation set in place in 1990 that requires buildings to be handicap accessible. The ADA requires specific things, including access to a building from a parking lot and sidewalk; visual and audible fire alarms; width minimums for hallways and doorways; accessible bathroom stalls and sinks; access ramp guidelines; and lever door handles that are easier to grasp.
Kyle Kueper, a senior architecture major, participated in Donkers' project and used a wheelchair to get around campus. 
"As a designer, I felt like this experience would be beneficial because a lot of new construction doesn't really focus on making everything wheelchair acceptable," Kueper said.

SDSU ADA Coordinator Nadine Gjerde said there is a big difference between compliance and best practice of ADA regulations. While all facilities were built after the ADA regulations were set, it doesn't mean they are accessible in the most convenient way.

According to Kueper, even though Donkers said he could get out and walk during difficult paths, he wanted to stay in the wheelchair the whole time. Because of this, he was able to see small challenges, like crossing roads or uneven sidewalk pavement.
He also expressed frustration that the handicap entrances to buildings like Agricultural Engineering and Edgar S. McFadden Biostress Lab were on the opposite side of the building from the main campus.

"It's kind of like a reversal of what the priorities should be," Kueper said. "If you're in the chair for a short time, you don't get the full experience."
Kueper said the experience opened his eyes to the importance of considering access in his future designs and he will strive to do more than just the bare minimum of compliance.
Kanbi Knippling, a graduate student in the counseling and human development program, has been on campus since 2013.  Knippling uses a wheelchair and said she has the most trouble with accessing faculty in her programs whose offices are in Wenona Hall. Wenona was built before ADA regulations were put in place, as were many buildings on campus. She also has had problems with malfunctioning elevators.
"There was a class I had in Crothers where I think I got to go to like half of the classes because the elevator wouldn't work most of the time," Knippling said.

However, Knippling was happy with the way SDSU faculty, including disability services coordinator Nancy Hartenhoff-Crooks, worked with her to make arrangements to find solutions to these problems.
Associate professor of architecture Charles MacBride said the architecture program covers ADA regulations in the last three years of the six-year program.  

"It winds up being a minimum standard," MacBride said. "It's intended to benefit the majority of people, but there's always going to be exceptions."

ADA codes also include programming guidelines. Classes should be available to all, including people with hearing or vision impairment, physical disabilities or mental health conditions. Gjerde said this could include needing an interpreter or assistance taking notes, in addition to accessing the classroom space.

"It's about making sure that we're providing those accommodations so, even if you're in an accessible space, that the program offered within that space is accessible to you," Gjerde said.

Harding Hall and Solberg Hall are two examples of old campus buildings that added accessible entries and elevators during renovations. Gjerde said as construction continues on campus, access to old buildings will be reassessed based on each individual project.

The SDSU Facilities website states the 2025 Design and Master Plan supports principles that include "All walkways essential to reaching a building or program will be built to adhere to the latest ADA guidelines, providing equal access to public spaces. Parking will be developed in a manner that allows for flexible placement of accessible parking stalls, responding to the changing needs of the students, faculty, staff and visitors."

Gjerde said the university wants to reach ADA best practice instead of just compliance. She wants to work with students and faculty members to make sure they are able to access spaces and programs.

"You can't plan for everything, so that's where hopefully I can have those dialogues with people as we plan spaces and plan programs," Gjerde said.