Your tie is tight, your slacks are straight and you just aced your interview — or did you?
"The interview does not end when the questioning is done," said Sherry Fuller Bordewyk, South Dakota State Office of Career Development associate director. "Really, it doesn't end until you have followed up with the employer, because the hiring manager is going to use that 'thank you' to gauge your genuine interest and enthusiasm for the position."
While many job applicants may know how to prepare for and present themselves in an interview, they often give little thought as to what steps to take after the interview is conducted. Although following up with potential employers after an interview may seem daunting, it could be the deciding factor that solidifies your position in any job opportunity.
"If you are fortunate enough to be interviewed for a job, then you are a serious candidate in the eyes of that company," Fuller Bordewyk said. "A follow-up could be the difference between you getting the job, or a different candidate getting th
e job."
Interview follow-ups should be completed and received by the interviewer no more than 24 hours after the interview is conducted. Fuller Bordewyk said to ask for a business card from the interviewer to contact and express interest in the company as a whole.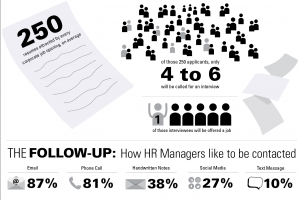 Interview follow-ups are not only a great way to express gratitude toward employers for their time and interest, but it;s also a platform to express enthusiasm about working for them. It reminds them of the skills, education and experience you have to offer.
SDSU alumnus Jason Van Winkle said he took advantage of the University's Career Development Office when searching for employment opportunities.
"I went to some resume and interview seminars," Van Winkle said. "I got my internship through a career fair at the university, and it helped recruiters know who I was."
Van Winkle has worked as a corporate engineer at 3M in Brookings since June 2017. He was contacted by 3M and after the interview, made sure to follow up with them.
"I clarified my interest in the position," Van Winkle said. "It was a call to say 'thank you for considering me' and 'I'm interested in the position.'"
There are multiple platforms job applicants can take advantage of when deciding on how to follow up with an employer. Whether your follow-up is through a phone call, email or handwritten letter, it is critical that applicants express their gratitude and interest to potential employers to solidify a professional relationship and networking opportunities.