Bum-A-Meal: a timeless tradition
Bum-A-Meal happens Tuesday evening of Hobo Week, allowing students to dress up in their hobo clothes and go out in the community to eat a free meal from a host family. These locations can vary from houses to churches, or even classrooms on campus.
Miranda Mack, a senior music education major and this year's assistant pooba of marketing for Hobo Day, said this tradition dates back to before Hobo Day.
"Before Hobo Day, there was the Night Shirt parade, where the students would be in their pajamas and they would meet the opposing football team at the train station," Mack said. "When the students would walk back to campus, some community members would leave their porch light on, and the students would get a can of food from the residents and come together to make a bum stew out of everything they got when they got back to campus."
Nick Wendell, director of the Center for Student Engagement and Hobo Day Committee adviser, said that some community members go all out.
"Hosts decorate their homes in hobo decor, wear hobo clothes and serve their guests a traditional 'hobo stew,' which can differ from home to home," Wendell said.
Mack said this year's event had 33 hosts in the community and close to 300 student participants.
"Every year we have more students than we are able to accommodate for, which is sad, but it is a good problem to have because that means the students really buy into this event," Mack said.
Sophomore political science major Alexis Dooley participated last year and said she had an amazing first experience dressing in hobo attire with friends.
"We shared a host with another group and she fed us chili dogs and a really good dessert bar," Dooley said. "I loved getting to meet so many new people."
Mack said she believes this event is special for the community as a whole.
"Bum-A-Meal is an event that is unlike anything else that happens at any other university," Mack said. "Year after year, people come back and tell stories about when they took part in this and what food they had, and I think it's an event that ties all of us together in the community."
One Bum-A-Meal host is Kevin Kessler. He is the Director of Athletic Bands at SDSU. This was his second time hosting a meal.
"Part of the reason we decided to host was because there seemed to be a slight lack of hosts," Kessler said. "So my wife and I decided to jump in last year and host a meal."
Since Kessler lives out of town, his family hosts their Bum-A-Meal on campus. He prides himself on his location at the Schultz Lounge in Lincoln Music Hall and thinks it's more convenient for students.
"It gives an opportunity for students who don't have vehicles to participate in the event and we are allowed to host more people in a larger space," Kessler said.
Traditionally, hosts make some sort of  "bum stew" for their guests, but Kessler likes cooking something different every year. Last year, he served chili because it was easy to prepare, and this year he served a taco bar for the same reason.
Kessler said he enjoys the event because he is able to meet people from the university that he wouldn't otherwise.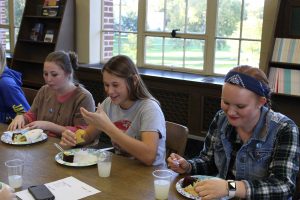 "Last year, we hosted several members of the women's soccer team, and it was really fun to get to know them and find out where they're from and their different majors," Kessler said.
Mary Christensen has hosted Bum-A-Meal four times. She is the coordinator for advising and student retention for the College of Agriculture and Biology.
Christensen and her husband are both proud SDSU alumni, which prompted her to host the event.
"It is a really fun way to give back to the university and stay connected with SDSU," Christensen said.
Christensen keeps the menu simple so they can enjoy the night. This year, she made chili because it is easy to accommodate for varying numbers of students. She also served caramel Rice Krispy bars and cheesy French bread.
Although the meal itself is important, Christensen said she likes to make sure everyone in the room feels comfortable.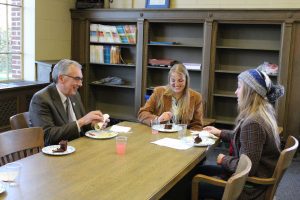 "I like to get to know the students that are here, especially if the group that we have does not know everyone in the room," Christensen said. "The students all sprawl out in different parts of the dining room and living room and we usually have good conversation."
On top of conversation at the meal, Christensen said one of her favorite parts is getting to see students in their hobo gear.
"It's really fun to see their bum costumes and how much work and time they put into making it look special," Christensen said.
Participation in activities that bridge the campus community to the broader community of Brookings is what keeps Christensen coming back to host Bum-A-Meal.
"Both my husband and I work on campus, so we feel like we are already a part of the campus community, but we like expanding that community out into the city," Christensen said.
Christensen hopes more people in the community would consider hosting.
"If anyone in the community wants to find a fun way to connect and give back to the university, this is a great way to do it," Christensen said. "I would encourage those people to open their homes and host a meal."