The Collegian's Love is Blind series set up two students on a blind date to see if sparks would fly between them. This week Victoria Braley, sophomore animal science major, and Gabriel Inyan Pulliam-Sanchez, freshman pre-law major took a chance at love.
Pulliam-Sanchez's hobbies consist of cooking, snowboarding, skateboarding, playing video games and guitar. Braley enjoys art, science, animals, reading, writing and bowling.
Pulliam-Sanchez and Braley were interviewed and asked questions prior to the date then again afterward — and each gave interesting answers.
The two went to Craft Italian American Fusion, Pulliam-Sanchez ordered Black and White Alfredo while Braley had Blackened Chicken Caprese while getting to know each other that night. Both of them thought the food was great.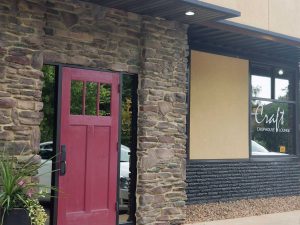 Pulliam-Sanchez said he would like to go on another date and Braley agrees.
"I enjoy meeting new people and would like to get to know her more." Pulliam-Sanchez said.
"We both hit it off. We were able to find areas of interest where we both had overlapping interest." Braley said.
Q & A with the couple
What is your idea of a perfect date?
Victoria: I like when they do something unexpected.
Gabriel: Going ice skating, getting some coffee and walking around downtown.
What were your first impressions?
V: I definitely didn't get a bad vibe. He seemed really nice.
G: She was super nice. She seemed really down to earth and genuinely committed to the date.
What did you expect from the date?
V: I was expecting to meet someone new and hopefully start a connection.
G: I was looking for something interesting.
What are your pet peeves?
V: When someone randomly gets an animal without giving it any thought or doing any research.
G: When someone is arrogant.
What do you look for in a partner?
V: Someone I can click with emotionally.
G: Someone I can talk to and get to know well.
How would you describe yourself?
V: I would describe myself as fairly quiet and reserved at first.
G: I'd say I'm rad.
Would you go on another date with the person?
V: Yeah, I had a great time. He seemed like a nice guy.
G: Yeah, I would. Nothing went bad so I can't see why I wouldn't go on another date.