Although we all enjoy a weekend binging our favorite Netflix show, sometimes it is nice to get outdoors to explore the world around us and unleash our inner adventurer.
Camping provides many different benefits, as long as you have the proper gear and are in the right location. 
People can often run into distractions and forget to enjoy some of the little things, like nature. 
"With us always being plugged into our phones and any kind of electronics, camping really benefits you psychologically," said Neil Jones, inventory manager at the Great Outdoor Store in Sioux Falls. 
Pitching a tent or hanging a hammock for a night allows you to clear your mind and can be a stress reducer. During times when stress is heightened, such as midterms or finals, it is especially beneficial to spend extra time outdoors to soak up some Vitamin D.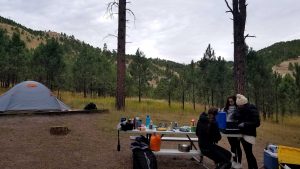 Students Martina Steinmaurer, Valentina Rodriguez and Laura Blanco cook their meal on a portable grill during a camping trip to Blue Bell Campground by Custer, SD on Oct. 7, 2017.
"Camping is wonderful for its ability to remind you that you don't need a lot of stuff," Justin Parks, coordinator for Outdoor Programs, said. "It helps disconnect you from everything the world throws at you, even for just a couple of days." 
It also lets you to slow down and enjoy life "minute to minute," Parks said. While making connections with not only friends and family, but also yourself.
"Getting that breath of fresh air and letting yourself be outside is incredibly vital to your long-term health," Parks said. There are currently studies being conducted on how spending more time outside could reduce chronic health concerns.
However, whether you are simply going for a day-hike or planning an overnight camping trip, you receive none of these benefits if you do not have the necessary gear with you, Jones said. 
"You never know what might happen while you are out there, so it is a good idea to be prepared for anything," Jones said. 
Some sort of navigation tool, such as a phone, map or compass is critical to bring with for safety purposes in case you get lost, he said.
"If you would need to have a rescue situation, at least a phone, to a certain degree, would show you where you are in the world," Jones said. 
Other important items to bring include a headlamp, sun protection, first-aid-kit, a fire starter kit, extra food and layers and some sort of a shelter, Jones said. 
"These are essentials for anyone who is just getting into hiking, backpacking or is staying out for a few days," Jones said.
Most of these items, plus many more are available to rent from the Outdoor Program at the Wellness Center. 
After the gear is all set, the question is down to where you should go. Thankfully, there's a few options in and around Brookings that make great camping and hiking spots, Parks said. 
In Brookings, Sexaur Park is the only park that permits camping, according to the City of Brookings website. There are paved pads and large grassy sites available ranging from $10-$25 per night. 
About 25 miles north of Brookings there is also Oakwood Lakes State Park. There's have spaces for campers and tents, along with disc golf, swimming, horse trails and paddleboarding. 
So, whether you want to plan an entire weekend out in nature or just an afternoon, remember to pack the correct gear. 
"Think of your favorite memory that you might have, and chances are that the memory includes family, is outside or is a combination of the two. And the fact of the matter is that being outside lends itself to the best memories," Parks said.