The FCS playoffs are back and the 11-0 South Dakota State Jackrabbits find themselves back in the No. 1 seed for the third time in four years.
In standard FCS fashion, the top eight teams will get a bye in the first week of playoff play.
The top eight teams are as follows: South Dakota State (1), Montana (2), South Dakota (3), Idaho (4), UAlbany (5), Montana State (6), Furman (7) and Villanova (8).
Going into Nov. 18, the FCS saw both Furman (ranked 2nd at the time) and Montana State (ranked 4th at the time) lose their final games, Giving Montana, South Dakota and UAlbany jumps on the board.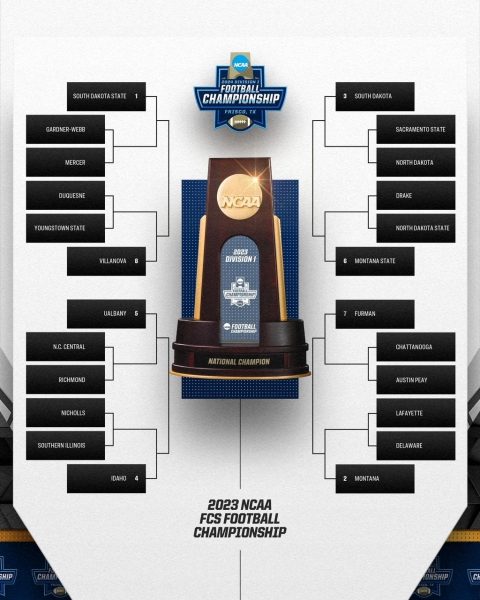 Powerhouse Conferences
The Missouri Valley Football Conference and the Big Sky Conference have been two of the top conferences in the FCS recently, with both conferences holding top spots with multiple teams. The MVFC holds the No. 1 and No. 3 seeds while the Big Sky takes No. 2, No. 4, and No. 6. The Big Sky has four teams in the playoffs while the Valley brings six teams of their own.
Four other MVFC teams join SDSU and USD in the playoffs. North Dakota State, North Dakota and Southern Illinois were projected to qualify, but they aren't the only teams joining the field.
After Finishing 2021 with only 3 wins, the now 7-4 Youngstown State Penguins went into the last regular season game out of the top 25, though a win against Murray State and ranked losses from Harvard, Western Carolina and Central Arkansas saw them make the jump.
South Dakota, North Dakota and North Dakota State all sit on the same corner of the bracket, meaning a Valley matchup in the playoffs is very possible this season, though it isn't promised.
North Dakota is set to play Sacramento State, an offensive threat out of the Big Sky before they would have the chance to meet South Dakota for the second time this season.
NDSU would have to beat Drake in the first round and find a way to stump No. 6 Montana State to have a chance to play either USD or UND.
South Dakota State found themselves in a pretty favorable spot, either matching up with 7-4 Gardner-Webb or 8-3 Mercer. Not only do the Jackrabbits outmatch their opponents on the field, but the atmosphere and climate of Brookings puts teams in a spot, far from comfortable.
The Big Sky Conference had four teams earn spots in the postseason, with three seeded teams in Montana, Idaho and Montana State, followed by unseeded Sac State.
Though unseeded, the Hornets are not a team to look away from. Sac State's powerful offense under head coach Andy Thompson sits 18th in the nation.
Mercer
For the first time in program history, the University of Mercer Bears hold a spot in the NCAA FCS playoffs.
In 1941, with the start of the U.S. involvement in World War II, Mercer dropped their football team and didn't resume play after the war was over. It wasn't until 72 years later, in 2013 when the Bears stepped back onto the gridiron.
Mercer has played solidly this season, going 8-3 with losses to FBS opponent Ole Miss, current seventh seed Furman and Chattanooga, another team in the playoffs.
Though it is their first time in the postseason, head coach Drew Cronic believes that this isn't some fluke choice.
"I think we earned the right to be here," said Cronic during the selection show aired on ESPNU. "We've shown the last few years that we were very close."
So far this season, Mercer has averaged 27.27 points per game under redshirt sophomore quarterback Carter Peevy.
The Georgia native has thrown for 2,087 yards this season on a 67.19% completion percentage with a touchdown/interception ratio of 11-3.
Peevy has found his go-to target Ty James 54 times this season who has racked up 1,002 yards and seven touchdowns, leading the team in all three statistical categories.
Devron Harper has been a reliable target for this offense as well, bringing in 50 catches for 522 yards and two scores.
Defensively for the Bears, Ken Standley leads the team in tackles with 80 total. The linebacker also has 13 tackles for loss, four sacks, a forced fumble and an interception.
Safety Lance Wise Jr. has brought in four interceptions this season, most on the team while sitting in second for tackles with 72 total, along with a forced fumble.
On the line, Solomon Zubairu has been eating up offenses, adding 15 tackles for losses, 7.5 sacks, 11 quarterback hurries, a forced fumble and a recovery to his 42 tackles.
Gardner-Webb
Formerly a high school (Boiling Springs High School), Gardner-Webb has made its way to the FCS playoffs.
The Runnin' Bulldogs started their season 1-3, with losses to Appalachian State and Eastern Carolina, two FBS teams and a loss to Tennessee State, an HBCU. Gardner-Webb went on to win six of their next seven games to advance to the playoffs.
This run-first offense features two tailbacks with over 600 rushing yards Narii Gaither (684 yards) and Jayden Brown (646 yards). While Gaither has seen the most touches, Brown leads the team in touchdowns with five.
Though only playing in eight games this season, Jaylen King has thrown for 992 yards for 10 touchdowns, completing 52.8% of his throws.
Ephraim Floyd has brought in 368 receiving yards, most on the team while Karim Page follows closely with 326 of his own. Both receivers have a combined 3 touchdowns this season. Brown leads the team in receiving scores with five on the year.
William McRainey has brought in 90 total tackles, seven tackles for loss and one sack, force fumble and an interception.
Two Runnin' Bulldogs find themselves in the backfield a lot in Ty French and Brendan Jackson. French has 17.5 tackles for loss and 6.5 sacks while Jackson has 11.5 tackles for loss and four sacks.
Mercer will Host the Runnin' Bulldog/Bear matchup on Nov. 25 at Five Star Stadium in Macon, Georgia. The game can be seen on ESPN+. The Winner will come to Dana J. Dykhouse Stadium on Dec. 2 at 1 p.m. to battle No. 1 South Dakota State.
Tickets can be purchased through JackrabbitTickets.com. South Dakota State Season ticket holders have until Nov. 29 by 5 p.m. to claim their tickets for the SDSU playoff opener.