New bike towers help students with quick repairs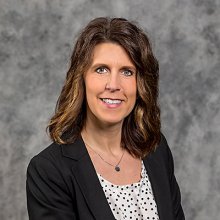 Transportation will be more convenient for students who ride their bikes on campus. Soon it will be even easier to maintain a bicycle as a South Dakota State University student.  
  This summer, three bike repair towers, equipped with tools and compressed air, will be installed for students to repair their bikes. These towers will be free to use for students and faculty on the SDSU campus.   
 These 5-foot-tall, Jackrabbit blue bike towers feature 10 different tools. Additionally, there are pegs on the top which the tires can hang from as the bike is worked on.
Former Students' Association Chief of Staff Hannah Nelson has been working on this project for three years.
 "The reason it came to be is because my roommate didn't have a car living in Meadows, and she kept getting a flat tire (on her bike)," Nelson said.  
  Every time her roommate got a flat tire, she would have to take the bike to a gas station to pump it up. This was a huge inconvenience, and Nelson saw an area where the campus could improve.   
 "We just want people to ride bikes but if they have something loose on their bikes they can fix it here on campus," Shari Landmark, recreation and fitness director at the Wellness Center, said. 
 These towers can be useful to air up a tire or tighten a bolt, but they will be less effective for a more complicated or reoccurring issue.  
  Angela Spear, manager at Soke-N-Sport Bikes, explained that these towers are a great quick fix. However, bikes are very complicated. Bike shops have hundreds of expensive specialized tools to repair bikes.   
 People who work at bike repair shops often have specialized training and know what needs to be fixed, if parts are needed and ultimately how to fix it.   
 While these bike towers are extremely helpful, Spear said that people should educate themselves on their bike model and its repairs before attempting to use the towers. They should also be aware the fix may be temporary.   
The funding for this project is a joint effort between The Miller Wellness Center, who paid for two towers, and SDSU Students' Association, who paid for the remaining one.    
One tower will be outside of the Wellness Center by the outdoor program space. The second will be outside Hansen Hall and the last will be outside Mathews Hall.   
 They are strategically spread out throughout campus in convenient locations, so, if something goes wrong, a person should not be too far from a tower when it is needed.   
 If students are interested in riding a bike for the day but don't have one on campus, that is also possible. The Wellness Center rents out bikes for just $8 per day.   
 The Wellness Center is "trying to just support activity" according to Landmark, and she said this is a great way to do that. They have also implemented similar tools like the skateboard and scooter rack. Both programs make it easier for students to get outside and be active.
 "These towers help people pay more attention to their bikes, which I'm all for," Spear said.