Transfer student enrollment trends upwards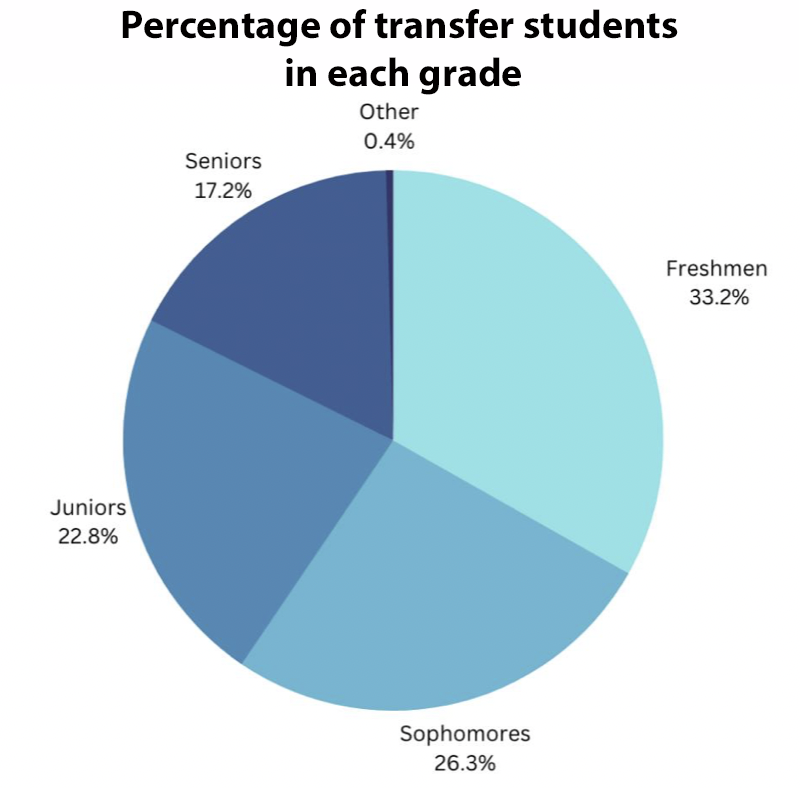 In the fall 2022, 464 new students transferred to South Dakota State University. 
At SDSU, there are multiple common trends that can be analyzed among students for their reasons for transferring.
"Enrollment of transfer students often follows economic trends," Ryan Vande Kieft, assistant director of admissions, said. "As labor markets become more competitive, especially during more challenging economies, individuals pursue education to elevate their credentials or possibly shift their chosen career choice." 
Officials say students are looking to enroll in schools where their credits transfer and allow them to earn their degree at an affordable price and in a timely manner.  
The top trends in transfer students include changes in career interests, financial circumstances, opportunities in athletics and overall experiences. 
Lauren Pick, a sophomore at SDSU who transferred from Northeast Community College, said she had to transfer to pursue her nutrition and dietetics degree.  
 According to Shawn Helmbolt, director of admissions, the degrees most commonly pursued by Fall 2022 transfer students include animal science, business economics, psychology, human biology, medical lab science and nursing.  
 Within these degrees, there are also common occurrences between the ages of students that are transferring to SDSU. Based on the enrollment figures from fall 2022, the largest amount of transfers were 20-21 years old.  
 As far as challenges that SDSU faces with transfer students, there are two main concerns: engaging the students before they decide to transfer and organizing past credits to remain on track for future goals.  
 Transfer students handle the application process more independently, and universities are typically unaware of a student's interest in the school until they have applied. Because of this, it is difficult to engage them in the school prior to the application process.  
 The other common issue that occurs with transfer students is organizing all previous classes to align with their future goals. With possible credits from college-level courses in high school and credits from the previous college, it is a challenge to guarantee all classes are organized. 
"Collaboration between the student and advising points on their current and future campuses is often required to ensure their courses transfer as positively as possible," Vande Kieft said. 
As for the students, it is a huge change to go to a new school, and since most transfer students are still recently out of high school, there is a lot to consider when it comes to the campus locations, technology and its community. Universities set up orientations and work to make the transition smoother for the students. There is even a living-learning community on campus specifically for transfer students.  
"I am in a dorm with a floor full of transfer students, so it made me realize I am not doing this transition alone, and I can talk to people who may be experiencing the same things as me," Pick said about the living-learning community. 
Once arriving in Brookings, many transfer students say SDSU has a great campus and community. Pick said that even though it is intimidating at first, everyone is willing to help and is always friendly.