Sodexo issues refunds up to $200
After a poorly executed food provider switch, Sodexo is giving up to $200 back to students
Students with meal plans at South Dakota State University will receive additional flex money in their meal plans as soon as this week to help make up for limited dining hours, options and related services earlier this semester. 
Sodexo, the dining service provider at SDSU and the five other South Dakota Board of Regents schools across the state, announced it will be adding up to $200 to SDSU students' flex funds depending on the meal plan the student bought.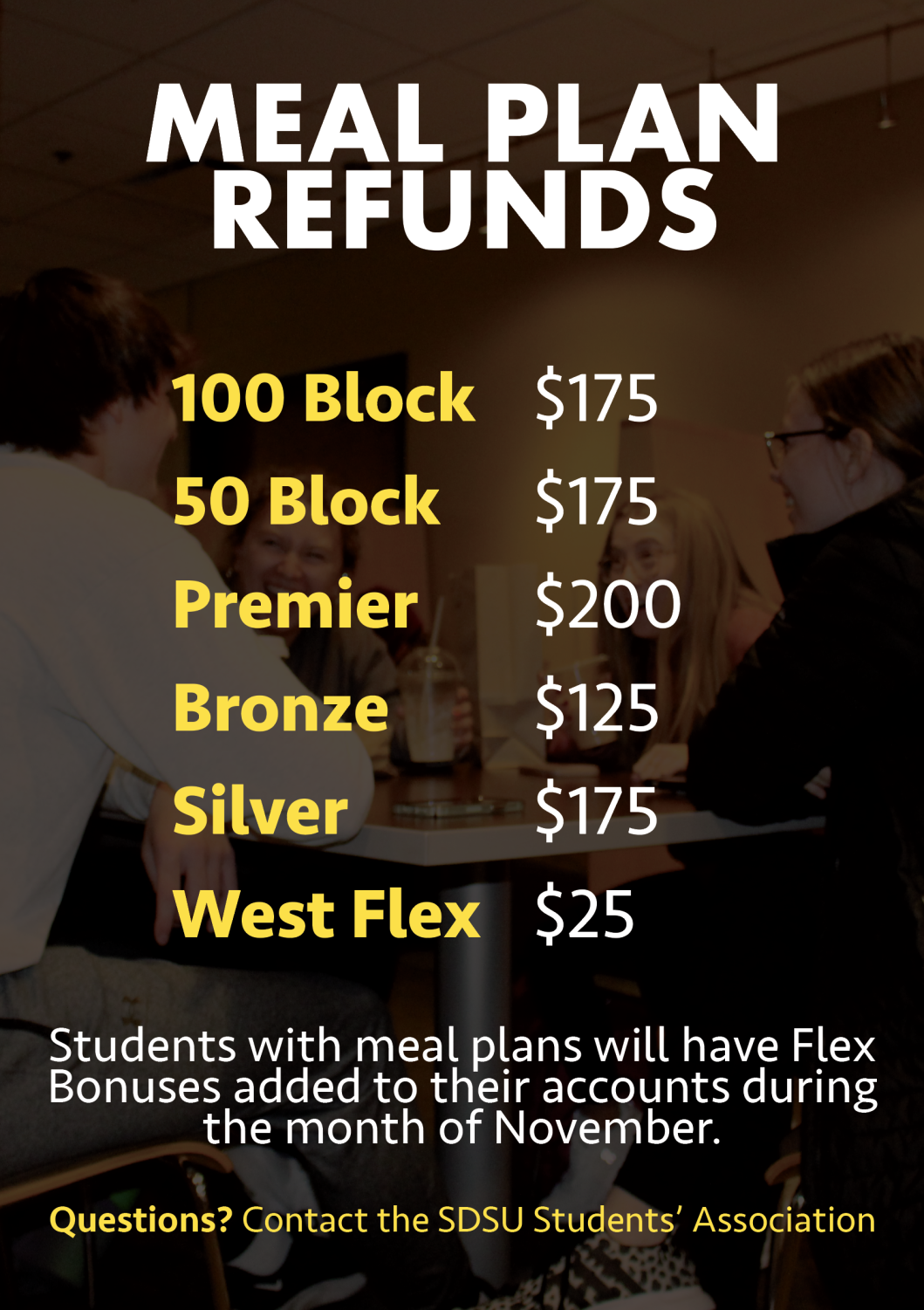 Students at SDSU and South Dakota School of Mines and Technology are set to receive the most money in their flex accounts, according to Doug Wermedal, vice president of Student Affairs on campus.
 "Our food service program has a lot of retail and a lot of different sites — like 19 sites — they were behind on [opening] a lot of those sites," Wermedal said about the dining situation leading to the flex offer. 
Students at SDSMT were caught in the middle of the most difficult transition among the universities. There, Sodexo offered limited hours at campus dining locations, ran out of food multiple times during the evening rush, delayed the opening of some locations and offered students disposable dinnerware in the dining hall for weeks after the start of the semester, according to Cody Marshall, the Students' Association president for SDSMT. 
Students with the West Flex meal plan option can also expect offers they'll be able to redeem at the hot food vending machines located in Hansen Hall.
"Those machines … were supposed to be a part of what helps the west side have a well-rounded meal program, and they just weren't available," Wermedal said.
Blake Pulse, SDSU's Students' Association president and chair of the University Food Service Advisory Committee, is pleased with Sodexo's finalized refund amounts. 
"I'm very happy with where the numbers are at," Pulse said, adding that food service continues to improve.
For Pulse, the refunds are a victory for his Senate, which brought the food service situation at SDSU to the attention of the Board of Regents by passing Resolution 22-3-R expressing "disappointment with corporate Sodexo for the food service transition and early fall 2022 operations."
Sodexo's plan to add flex money to meal plans was then discussed at the Oct. 6 BOR meeting at Dakota State University. Final amounts were posted in SA's Rabbit Report weekly email Nov. 7. 
"I'm looking forward to a good partnership," Pulse said. "I really think this is the start of making things right."
Overall, the transition is in its final stages, according to Wermedal. Technical issues preventing mobile ordering at some locations are being worked on, and the ability to pay for Starship food delivery robots with flex money will arrive shortly. Additionally, the last vacant Sodexo operation on campus, Created With Love, will open this semester. 
"We've got supervisory staff hired for Created With Love," Wermedal said. "That's kind of where you have to start. But I think they're still waiting on the hourly staff."
The restaurant will feature a rotating menu determined by UFSAC, beginning with a "tailgate menu," including hamburgers, hotdogs, barbecue, macaroni and cheese and coleslaw. Wermedal expects two other menu rotations to take place in the spring semester. 
Staffing continues to be Sodexo's primary challenge, but the numbers are "incrementally" improving, Wermedal said.
Last year, Aramark, SDSU's previous dining service provider, faced similar staffing challenges and offered limited hours and options.