Precision Connect(s) Students and Industry
Second annual CAFES internship presentation event showcases student achievment and latest technology in agriculture.
Seventy-eight students in the College of Agriculture, Food and Environmental Sciences presented their summer internship experiences at the second annual Precision Connect event Friday, Sept. 16 at the Raven Precision Agriculture Center.
The poster presentations were completed by interns ranging from sophomores to seniors in the ag and biosystems engineering department and agronomy, horticulture and plant science department.
"Precision Connect was an awesome event to celebrate our student's accomplishments and participate in impactful discussions geared toward the future of agricultural technology, because that is what precision agriculture is," Kristin Stuckey, coordinator of the event, said.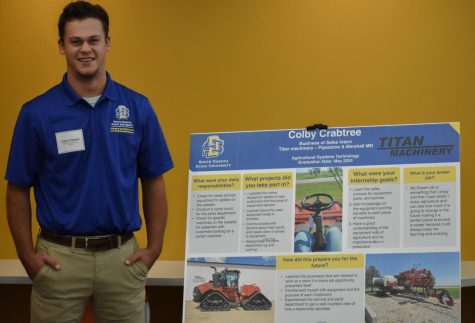 Chad Colby, founder of Colby AgTech, kicked off the day by discussing the "new wave of big ag technology." Following this, students and guests had a choice of different breakout sessions to attend, with one of them featuring Colby discussing the value of drones.
In addition to breakout sessions and student presentations, the event included ample opportunities for students to network with industry representatives.
"To get employers on SDSU's campus and give them the opportunity to collaborate with the students and discuss potential career prospects made it a fun event," Nicholas Uilk, instructor in the Department of Agricultural and Biosystems Engineering, said. "There is no other event that allows industry to see as a whole what the student body is doing and what they are capable of accomplishing post-graduation."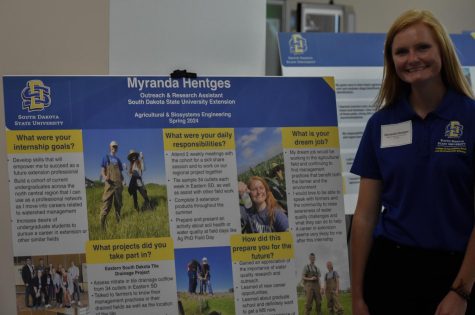 Last year was the grand opening of the Raven Precision Agriculture Center, making it the perfect time to bring Precision Connect to life.
"Not only did we showcase the beautiful building but also the amazing students within it," Stuckey said.
When Uilk and Stuckey first proposed the idea of Precision Connect last year, they knew they needed to create a direct pipeline between the students and their future work life.
"We knew the job market needed great new hirers, and we knew there was a bridge that needed gapping between our students and the people who need them most," Stuckey said. "So, we connected that bridge."
This year, the event's focus was exclusively on the students who will drive the future of agriculture.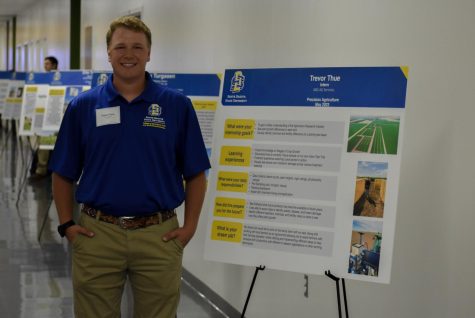 "The 2022 Precision Connect event was a great way to interact with industry professionals and fellow students looking for an internship in the coming years," Trevor Thue, senior precision ag student from Lake Norden, South Dakota, said. "Hopefully my experience with ABG Ag Services revealed to students what they should expect from an internship and how it can help them figure out what they want to do after graduation."
In the coming years, Uilk and Stuckey look forward to expanding Precision Connect by including more majors and programs on campus.
"I hope word continues to spread about how great of an event Precision Connect is," Uilk said. "I have no doubt the event will continue to grow and become a premier event where the industry can come in and see what their future employers are up to."