Groundbreaking ceremony marks transition to new arena
First Bank & Trust Arena to provide new opportunities for Jackrabbit athletics
Today at 4 p.m., a new era for Jackrabbit athletics was marked by the groundbreaking ceremony of First Bank & Trust Arena, taking the place of what is currently Frost Arena.
The project was first authorized by the South Dakota Board of Regents in December 2021, later receiving approval from both houses of the South Dakota Legislature, as well as Gov. Kristi Noem, in March 2022.
Construction and renovation began this summer with Henry Carlson Company serving as the contractor-at-risk. The project is part of the SDSU Foundation's Bold & Blue campaign, which is the largest comprehensive campaign in South Dakota State University's history. The campaign began with a $20 million donation from First Bank & Trust, giving them the naming rights of the arena.
Frost Arena has served as the home of Jackrabbit basketball, volleyball and wrestling since opening in February 1973. Countless events, ceremonies, commencements and games have been hosted in the 50 years since, and countless more will be held after the approximate two-year renovation is completed in 2024.
Members of the Jackrabbit family including alumni, athletes, current students, faculty, staff and the Brookings community joined together on the east side of Frost Arena to celebrate and reminisce what was and will become of the building.
The ceremony included South Dakota State University's infamous SDSU ice cream as well as remarks from President Barry H. Dunn, Kevin Tetzlaff, president and chief operating officer of First Bank & Trust, Haleigh Timmer, student-athlete, and Justin Sell, Director of Athletics.
President Dunn began his remark with sentiment towards the history of Frost Arena.
"This is a wonderful celebration of the next chapter of this great arena and complex behind us," Dunn said.
"As you all know Frost Arena has had a tremendous 50-year history on our campus. Nearly 100 commencement ceremonies have been held in this facility over that span. I've shaken thousands of students' hands as they walked across the arena during commencement to join the Jackrabbit family, as have the six presidents that preceded me,"
President Dunn went on to recognize his time spent in Frost Arena as a student in the mid-70s.
"Thousands of individuals, including me, have played intramural basketball and volleyball on the court in Frost Arena," Dunn said.
"Who knows what opportunities await us in the in the new arena."
Tetzlaff followed Dunn in recognizing the opportunities First Bank & Trust Arena will bring to SDSU athletics.
"First Bank & Trust Arena will meet the needs of not only SDSU athletics and the university, but the community," Tetzlaff said.
The Jackrabbit community extends beyond the walls of SDSU classrooms and offices, but into the city of Brookings and the state of South Dakota.
"You see when SDSU thrives in games, visibility grows, and when it grows, our community benefits as well. That's precisely why First Bank & Trust invested such a significant amount into this expansion. And why we have been doing so since the university's existence beginning in 1881," Tetzlaff said.
Haleigh Timmer, a freshman-going-on-sophomore Jackrabbit women's basketball player will see the impact the arena has on game days first-hand.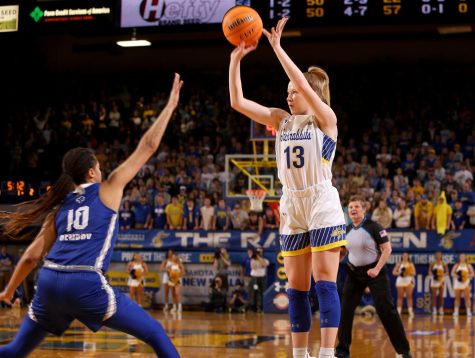 "I'm excited to have the opportunity to play in this world-class facility alongside my current teammates and future Jackrabbit student-athletes," Timmer said.
"The game day experience will be incredible, not only for us but also for our fans."
Justin Sell, Director of Athletics at SDSU closed the ceremony with sentiments toward previous groundbreakings.
"52 years ago, Sept. 22, 1970, we did a groundbreaking for the Fishback Center," Sell said while holding up a miniature shovel.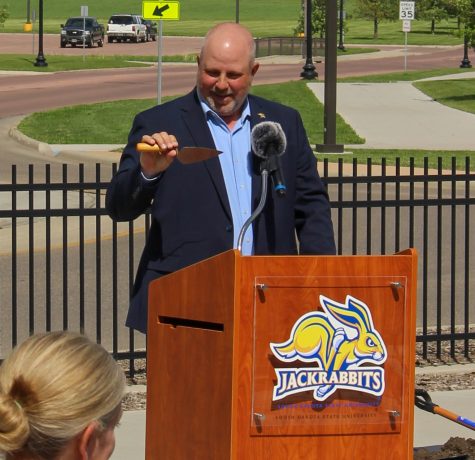 "Shovels were obviously a little smaller back then," Sell said.
Sell continued to echo President Dunn's nostalgia.
"50 plus years ago, I'm not sure you can possibly wrap your mind around the memories, the experiences and the ties that we've created [in Frost Arena]. We're a family. We're tight. We'll do anything for each other. And we can accomplish amazing things. That's what this building is going to symbolize long into the future. So with that, we'll get to the groundbreaking and shovels," Sell said.
Following the remarks, Sell, Thomas Fishback, market president of First Bank & Trust, Brookings, Van Fishback, chairman, board of directors of Fishback Financial Corporation, Tetzlaff and President Dunn broke the ground of the First Bank & Trust Arena.