Maren Morris strips things back on third studio album, "Humble Quest"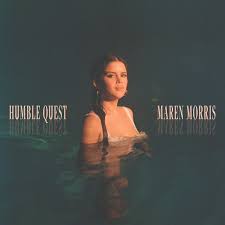 After scoring a pop megahit with DJ/producer Zedd ("The Middle") in 2018 and a slow-burning crossover hit of her own in 2020 ("The Bones"), country-pop superstar Maren Morris returns to her country roots on her third studio album, "Humble Quest."
Morris, a Nashville songwriter from Texas-turned-country music superstar, broke out in 2016 with her gospel-tinged debut single ("My Church") and Grammy-nominated debut studio album ("Hero"). After scoring a pop megahit in 2018 with "The Middle", Morris released her sophomore album, "Girl," which was her bid for Top 40 glory. The album's success was largely propelled by the cross-genre hit, "The Bones," which would go on to be the ninth biggest song across all genres in 2020. 
Rather than making a full switch to pop music, Morris returns to her country roots on "Humble Quest." The 11-song LP was produced by Grammy-award winning producer Greg Kurstin, who is best known for his work with Adele, Foo Fighters and Paul McCartney.
Together, at Kurstin's studio in Hawaii and Sheryl Crow's barn studio in Nashville, they leaned into the organic sounds of live instrumentation of the instruments as well as their environment. Morris said this played a big part in "letting the songs breathe."
The album kicks off with lead single, "Circles Around This Town," which is a triumphant, autobiographical song looking back on her journey from Texas to Nashville. Sonically, it's very reminiscent of Morris' debut album "Hero" and even name drops her debut and sophomore singles "My Church" and "80s Mercedes."
The title track serves as an anthem for Morris as she's still searching for what she's looking for and admitting she hasn't quite found whatever it is she's looking for.
"Especially for women in country music, the word humble is thrown around a lot. If you start to believe in your own self and success, and even feel prideful in it, you're starting to lose your roots and where you came from. It's almost used as a ceiling," said Morris of the inspiration behind the song in an interview with Today's Country Radio with Kelleigh Bannen on Apple Music Country.
The best of "Humble Quest" are the songs "Detour" and "Hummingbird," which are two of Morris' most country sounding songs in her discography thus far. "Detour," which is arguably the most country-leaning song on the album, is a folk-inspired song about people who travel roads less traveled, while "Hummingbird," a hauntingly beautiful lullaby-fused-ballad, is a tribute to her two-year-old son, Hayes. The album ends with "What Would This World Do?" which is an emotional tribute to late producer Busbee who passed away in late 2019 from brain cancer. Busbee was Morris' main producer for her albums "Hero" and "Girl." Morris wrote the song shortly before his passing, simply asking what the world would do without him.
While "Humble Quest" might not strike as big of a chord with the general public as much as Morris' previous albums, it's still a very strong, cohesive and tight-knit project that celebrates her successes and struggles in the music industry, friendship, grief, loss and love.
Album rating: 7.5/10
Top 3 songs: "Detour", "Hummingbird," and "Circles Around This Town"
Maren Morris' third studio-album, "Humble Quest," is now available to stream on all platforms and can be purchased physically at various retail stores across the United States. Don't miss your chance to see Maren in concert on the "Humble Quest Tour," which kicks off in June and runs through the end of the year.