SDSU honors activist during Cesar Chavez week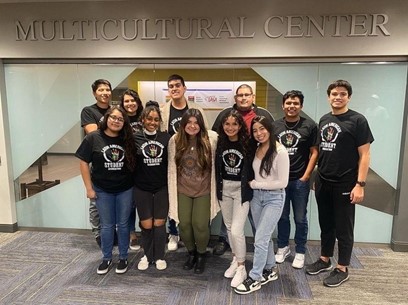 To many, March 31 is just like any other day. But to many Latinx people and farm workers, this day is to be celebrated.
March 31 was proclaimed Cesar Chavez Day in 2014, a U.S. federal commemorative holiday instituted by former President Barack Obama.
Cesar Chavez was an important Latino American figure who spent his life, especially during the 1960s and 1970s, working to improve the lives of farm workers. He worked to help change living and working conditions, wages, and contracts, and worked to increase the safety of those who worked on farms for a living. Because of his activism, in 1994, his wife Helen accepted Chavez's posthumous award, the Presidential Medal of Freedom, from former President Bill Clinton one year after his death.
Even from a young age, Chavez saw the many injustices around him.
Born March 31, 1927, in Yuma, Arizona, Chavez lived on a homestead that was eventually foreclosed due to unfair agreements regarding their land. Because of that, the Chavez family had to move from Arizona to California in 1938, where they eventually became migrant workers on various farms throughout California. 
Conditions were unbearable on the farms where he and his family worked. While working long hours, they didn't get many breaks, if any, and earned very low wages.
Chavez decided there needed to be a change.
Florencio Aranda III, former SDSU student affairs professional and diversity advocate as the Multicultural Latina/o/x retention adviser in the Office of Multicultural Affairs, has been a big advocate for students to learn about Chavez. 
"Cesar Chavez, along with Dolores Huerta and other organizers, co-founded what is now known today as the United Farm Workers, previously known as the National Farm Workers Association," Aranda said. "Their community organizing, peaceful strikes and fight against unjust working conditions for many Latinos/Hispanics and other minority and oppressed populations led Cesar and his team to gain international union recognition, which resulted in higher wages and better working conditions for migrant farm/field workers."
Aranda was the first person at SDSU to implement the celebration of Cesar Chavez Day. As a Latino himself, he wanted a way for Latinx/Hispanic students to highlight their culture and celebrate an important figure. 
"When I saw that SDSU didn't have a week that recognized this influential Latino American labor leader and civil rights activist, like it did for Martin Luther King, Jr., I knew that this addition could be of benefit to all SDSU students, faculty, staff and administration," Aranda said. "Starting Cesar Chavez Week at SDSU showed our Latinx/Hispanic students that they are valued, seen, heard and regarded on a campus where they aren't large in numbers."
Aranda now works at Texas Christian University (TCU) as the assistant director of diversity and inclusion activities at the Office of Diversity and Inclusion. TCU also celebrates Cesar Chavez Day and this year, Cesar Chavez's grandson Eduardo Chavez will be speaking about his grandfather and the experiences he had.
Alex Wood, assistant director of the multicultural center and head of the Latin American Student Organization, Black Student Alliance, Gender and Sexualities Alliance and International Dance Crew, also advocates for students to learn about Chavez. With Cesar Chavez day just around the corner, there will be activities throughout the week of March 28 through March 31 put on by LASA and the Multicultural Center to celebrate Chavez, learn about Latinx history and more. 
Throughout the week, there will be a Painting for Social Change night, a comedy show starring Erik Rivera and a movie night featuring the film "Bread and Roses" to close out Cesar Chavez Week. 
"We want to bring a bigger highlight to not only the labor struggles in California, but other battles such as abortion rights, Black Lives Matter, immigration, racism, immigration separation at the border and environmental justice," Wood said. "We want this to be an event that sparks social change while also having the option to just paint things like flowers that represent Latinx culture."
Wood added that the hope with bringing in comedian Erik Rivera is to open the conversation to race in a humorous way. The "Bread and Roses" movie night will highlight Latinas in their struggles as well, because Cesar Chavez's right-hand person was a woman. The theme of all three events is to look at the struggles happening around us and push to fight for social justice.
LASA members are excited to put on Cesar Chavez Week. Asledi Castillo, vice president of LASA, is excited for many reasons.
"To me, Cesar Chavez should be important to students at SDSU because we live in the Midwest where there are many farms," Castillo said. "If you're a non-Latinx student, it is cool to see that someone with a different culture defended farming that had an impact across the United States."
LASA treasurer Brian Duenas, also thinks that Cesar Chavez day will be a good opportunity for non-Latinx students to learn more about a significant figure and learn more about Hispanic culture.
"It's good to recognize that not just Hispanics work on farms," Duenas said, "and that it was a Hispanic who helped make a big difference for it."
All SDSU students, faculty and staff are encouraged to come to the events, as there will be opportunities to learn more about who Cesar Chavez was and about other aspects of Latinx culture for both Latinx and non-Latinx people.
"Don't be scared to come if you aren't Latinx," Duenas said. "If you want to learn more about the Latinx culture, stop by LASA meetings, come to these and other events and most importantly, come with an open mind."
"It's also important to ask questions if you don't know something," Castillo said. "The internet is a great resource to learn, and TikTok has been a great resource for me to learn more about my own culture."